Think of vitamins and supplements as tiny helpers. They can't do everything, but you shouldn't rely on them to take the place of food. If you are eating a well-balanced diet with plenty of protein, fiber, vitamins, and minerals, vitamin supplements will provide a little extra assurance that you're getting enough of every nutrient your body needs.
When it comes to morning supplements, there are shelves upon shelves of options at your fingertips. It can even get overwhelming. This one supplement you should take for a better day can actually improve your mood and even give you flatter abs.
Probiotics
There is a bounty of vitamins and supplements on the market and not every person benefits from every option. But probiotics are one pill that many nutritionists and dietitians agree is universally beneficial.
Probiotics are good bacteria found in fermented foods like kimchi and sauerkraut, as well as yogurt and some cheese. This good bacteria gets introduced into your digestive tract, where "bad" bacteria also resides. It helps balance the bacteria in your system to prevent illnesses and weight gain.
Oh, and to make you happier.
"I take probiotics daily to keep my gut populated with good bacteria that not only aids in the digestion of the food you eat and protects your body from infection, but is also linked to boosting your mood—talk about literal happy pills!" Taylor Johnson of Roots Reboot told Washingtonian. "An excellent, non-dairy brand is Dr. hhira's premium broad-spectrum probiotic supplement containing 12 strains of friendly bacteria."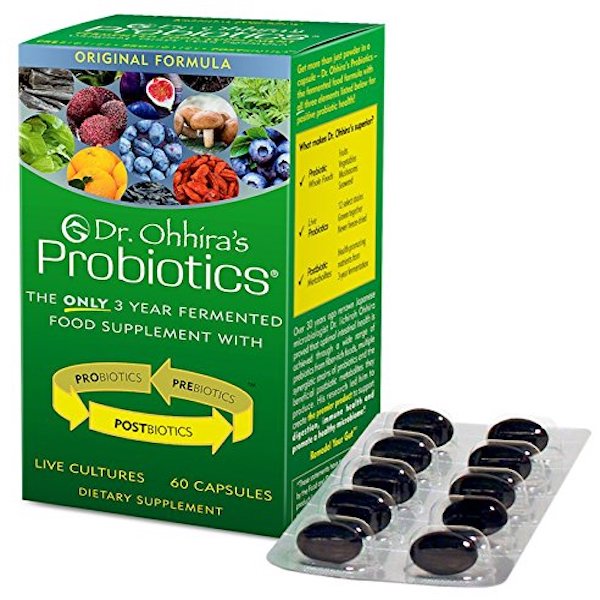 Dr. Ohhira's Probiotics ($46)
Johnson's favorite probiotic brand has 12 strains of live culture bacteria, with both prebiotics and post-biotics that keep your colon healthy. Prebiotics are also important because they encourage your body to grow its own good bacteria. It contains short-chain fatty acids and no questionable additives or fillers.
Probiotics Can Help You Get Flatter Abs
One of the sweetest advantages of taking probiotics on a daily basis—and a result you can actually see—is flatter abs. Good bacteria in your gut reduces belly bloat. And the effects are intensified if you eat dairy like Greek yogurt with your probiotic.
Possible Side Effects Of Probiotics
The most common side effect of starting a probiotic regimen is gas, but that should pass after a few days. If you are eating dairy foods with probiotics and happen to be lactose intolerant, you may experience stomach discomfort, but that's what makes taking probiotics in non-dairy supplement form so helpful.
Before you start taking probiotics, always ask your doctor for advice if you are already taking antibiotics or medication that affects your immune system, have a weakened immune system from another cause, or are lactose intolerant.
For more supplement and vitamin tips, check out 4 Anti-Inflammatory Supplements Doctors Swear By To Speed Up Your Metabolism and 4 Supplements You Should Take For Thinning Hair on SHEFinds.com.
[Photos: Shutterstock]
SheFinds receives commissions for purchases made through the links in this post.