Mother's Day is right around the corner and it's one of the hardest holidays to shop for. Like, how can one gift perfectly reflect all of the amazing things your mom does for you? It's practically impossible–if you're shopping at the wrong places!
Mother's Day Gift Ideas
To help eliminate any confusion and help you land the perfect Mother's Day gift, our editors shared the gifts they think every mom will like. There's something for every type of mom. Whether she likes to travel, cook, or spend time with the dog, here are the gifts we think your mom is going to LOVE:
Good American The Good Mama Sweater ($98)
Let the world know that your mom is a 'Good Mama' with this adorable sweater from Good American. It's comfy and it will keep your mom looking stylish.
Glossier You Perfume ($60)
People are loving this fragrance for its original and unique scent that's hard to describe but is easily appreciated--that sort of sounds like your relationship with mom, right? She'll love its gorgeous pink bottle.
Fujifilm Instax Mini 9 Instant Camera ($69)
Let your mom embrace her fun side with this adorable Fujifilm Instax Camera. She'll love having more photos to add to her growing photo albums!
Koolaburra By UGG Raychel Slip-On Mules ($79.99)
These vintage-inspired mules are perfect for spring because of their gorgeous blush color and sleek design. They're super comfortable and will make an excellent addition to your mom's amazing wardrobe.
Venus ET Fleur's Le Petite Papillon Eternity Arrangement ($169)
Why give her flowers that will die in a week when you can give her a bouquet that will last for up to a year, come in a beautiful box and smell amazing?
Away The Carry-On ($225)
"My parents usually share a luggage when they travel, but this year my mom is going on a 'Girl's Trip' cruise to the Bahamas. The Away carry on is the perfect size for her and even has a charger so she can keep in touch with my dad back on the mainland."
--Erika Friedlander, Senior Marketing Manager
Pamper her with a basket full of T.J. Maxx finds.
The prices are so good, you can get a whole *bunch* of stuff for mom. We like the idea of putting together a spa-night-in package complete with a Floral Robe, Sleep Mask & Soothing Gel Eye Mask Set, Marble Candle, and Detox Foot Pads.
SIMPLEHUMAN Round Sensor Mirror Pro ($250)
The ultimate gift for any beauty lover. This mirror closely simulates sunlight to show every detail for flawless makeup application.
NYDJ Jenna Straight Ankle With Raw Hem ($129)
There's no greater feeling than finding a good, flattering pair of jeans. Give your mom this great pair from NYDJ. Trust us, she'll practically live in these.
The Beachwaver Co. S1 Curling Iron ($129)
Mom will actually enjoy doing her hair every day with this professional-grade curling iron. The Beachwaver S1 will help her create effortlessly gorgeous curls and styles.
Benefit Cosmetics Blush Bar Cheek Palette ($58)
"My mom is new to the makeup scene and never knows which products she needs. This gorgeous palette has everything all in one place, making getting glammed up super easy. Plus, its packaging is absolutely gorgeous!"
--Emily Belfiore, Editorial Assistant
Philosophy Melon Daiquiri Shower Gel & Bubble Bath ($18)
We take treating yourself very seriously here at SheFinds. Give your mom the gift of relaxation with this creative and amazing smelling bubble bath from Philosophy.
Keds Chillax A-Line Jute ($44.95)
My mom asked for a nice pair of slip ons that she can easily put on and take off when going outside. Not only is this pair comfortable and durable, but they are also on-trend.
--Alisha Stacy, Sales & Marketing Coordinator
Tommy John Soft Lounge Short ($42)
Nothing is better than a super soft, comfortable pair of lounge shorts. Mom will love relaxing around the house and unwinding in these premium shorts--and they have pockets!
Ayesha Curry 12pc Aluminum Cookware Set ($111.99, originally $139.99)
Help your mom update her cookware collection with this amazing set from Ayesha Curry x Target. After all, your mom needs the best equipment to make all of those amazing meals!
Goop Scented Candle Editon 4: Orchid ($72)
Goop Eau De Parfum Editon 4: Orchid ($55)
Orchard is goop's latest fragrance launch and it's a mystical scent that's made up of sun-warmed apricot, fresh hay, and dry earth. It smells SO good that you'll want to get your mom the matching candle, too!
UGG Hailey Loafer ($100)
"My mom absolutely loves a quality pair of slippers. As soon as she gets home from a long day at work, she puts them on and doesn't take them off until she goes to bed. That's why I'm so excited to get her the Hailey Loafer by UGG for Mother's Day. The loafer style slippers have a durable sole and super soft upper that will allow her to wear them indoors and outdoors and still look chic."
--Jessica Harrington, Editorial Assistant
Algenist Pure Genius Collection Kit ($80)
If your mom is skincare obsessed, this Algenist Pure Genius Kit is perfect for her. It includes four powerful anti-aging products that can show signs of improvement in as little as 10 days.
Dermalogica Sound Sleep Cocoon ($80)
Give your mom the gift of beauty sleep with this overnight mask from Dermalogica. It will help her wake up with transformed, revitalized skin.
Fenty Beauty by Rihanna Glass Bomb Universal Lip Luminizer ($18)
This universally-flattering "stop-everything, give-it-to-me" gloss is the perfect gift for your fabulous mom. It's the perfect way to let her know that she's special and to let the world see how bright she shines.
Pinrose Sun Saint Candle ($45)
Who doesn't love a good candle? As the seasons change, your mom will love this Pinrose Sun Saint Candle that smells like a breezy ocean and coconut blend.
"This is the perfect bag for busy moms; it's compact, versatile, and elegant. You can even get it monogrammed, too!"
--Shelby Rodriguez, Creative Manager
Universal Thread Whisper Woven Backless Slip On Mules ($24.99)
These mules are super chic and super stylish. Your mom will love how versatile they are--and the fact that they match everything that's already in her closet!
Tobi Love You To The Moon Gold Necklace ($8)
Show mom just how much you love her with this Love You To The Moon gold necklace from Tobi. Every time she wears it she'll think of you.
Drunk Elephant The Littles ($90)
"My parents, being new empty-nesters, have begun traveling a ton recently. That, on top of the fact that my mom is really into beauty products I've been recommending to her lately, led me to choose this amazing Drunk Elephant mini travel kit as my gift to her for Mother's Day. I'm a huge fan of the brand and know my mom will love testing all the products."
--Brianna Peters, E-Commerce Editor
Stila Heaven's Hue Highlighter ($32)
If you have a glam-mom, she'll love this illuminating Stila Heaven's Hue Highlighter. It comes in four stunning yet subtle shades that will help her look naturally radiant.
Michele Deco Sport Watch Head & Silicone Strap Watch ($395)
This timeless, elegant design is a perfect match for any mom's style.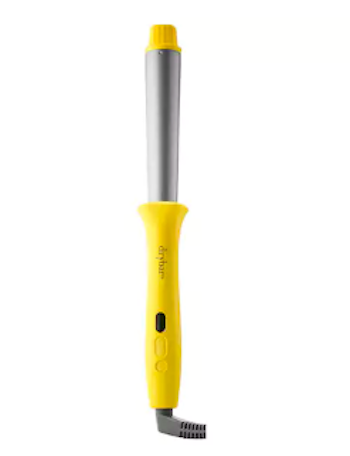 Drybar The Wrap Party Styling Wand ($165)
If your mom loves getting her hair done at Drybar, give her this wand so she can feel like she is at the salon right at home.
Mason Louis Marie No.4 Bois de Balincourt Candle ($34)
"Maison Louis Marie does an amazing job at making candles that smell expensive, but at an affordable price. So once Mom runs out, she won't have to break the bank to replace it. And trust me, she will want to replace it."
--Paige Ethers, Creative Services Coordinator
Emma Ultraviolet Bandolier iPhone Case ($88)
This unique accessory is a wallet, purse and iPhone case all in one. It's the perfect gift for any mom on-the-go. This lightweight alternative to a purse is perfect to keep your necessities in one small place. It not only features a strap attached to a phone case, but it also has a secret pocket for your credit card or ID. Not to mention, the limited edition violet color is perfect for Mother's Day.
Arbonne RE9 Advanced Prepwork Set ($155)
This skincare set will help your mom shine bright by protecting her skin from environmental stressors, thanks to its special formula of superfood ingredients like Kakadu plum and raspberry ceramide.
SheFinds receives commissions for purchases made through the links in this post.