Noticing that your strands are falling out more than usual lately? Experts say that thinning hair can be the result of many different things, but in most cases, a poor diet can be the biggest culprit.
That's why it's important to ensure that you're getting all the vitamins and nutrients your hair needs to be healthy and promote regrowth, which is where supplements come into play. There are tons of hair-healthy vitamins and minerals that contribute to your hair's thickness, but dermatologists say these six are the ones those suffering from thinning hair need the most: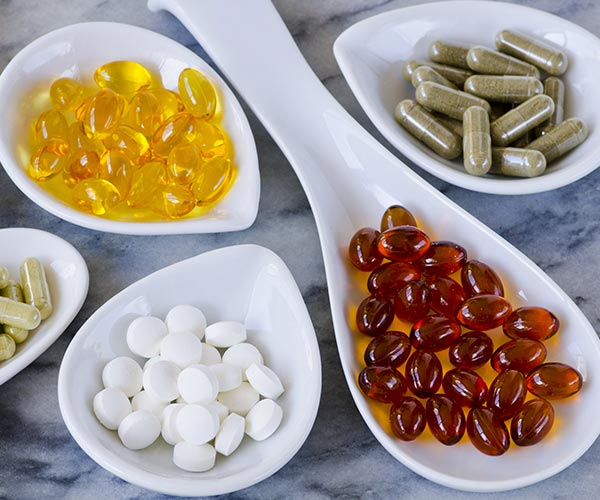 Shutterstock
Vitamin D
Vitamin D is known for its role in weight loss, but experts say it also helps regrow strands. Cleveland Clinic dermatologist Melissa Piliang told Fitness Magazine that this specific vitamin can revive your hair follicles and actually help your hair grow. Eat more salmon and grains and you'll be on your way to longer, stronger hair in no time!
Shutterstock
Vitamin A
"Basically, every cell of the body needs vitamin A to function," says dermatologist Cybele Fishman, MD. "It also helps protect and produce the oils that sustain your scalp, and being low on vitamin A can even leave you with itchy, irksome dandruff."
Dr. Fishman also notes that taking too much vitamin A can potentially hinder hair growth and recommends not taking more than 700 mg a day.
Shutterstock
Biotin
Biotin is one of the most important nutrients for hair health and growth. This water-soluble vitamin is part of the vitamin B family and helps convert nutrients into energy. Without enough biotin, you can experience hair loss, dry scalp and skin, brittle nails, and even depression. But here's the thing to keep in mind before you run out and down a bottle of biotin: you shouldn't take too much of any supplement and trying to treat thinning hair with biotin only works if you have a biotin deficiency. Incorporating biotin into your supplement regimen when you're already getting enough biotin through your diet will not make your hair grow faster or longer.
Shutterstock
Zinc
Zinc is a tricky supplement to master and one that, more than any other on this list, requires a doctor's consultation and supervision. Too little zinc can cause hair loss — but too much zinc can also cause hair loss because it disrupts the absorption of key minerals like magnesium and iron (which is also important for hair growth). But just enough zinc can keep your hair follicles strong and healthy.
Shutterstock
Fish Oil
You already know how beneficial omega-3 fatty acids are for your body and health. But a few studies have found that the nutrient you can get from fish oil is also nourishing to the scalp and can help with hair regrowth.
In a 2015 study published in the Journal of Cosmetic Dermatology, 80 healthy women with mild female pattern hair loss with given fish oil, blackcurrant seed oil, vitamin C, vitamin E, and lycopene supplements every day for six months. Hair density increased by 62 percent of the women and 90 percent experienced a decrease in overall hair loss.
Shutterstock
Vitamin C
Ongoing research has found that free radical exposure can be a potential cause of hair loss, which is why hair care experts recommend taking a daily vitamin C supplement to counteract hair fall. This powerful antioxidant helps protect against the oxidative stress caused by free radicals and even plays a significant role in rebuilding collagen, a vital protein that makes up the structure of hair follicles. Vitamin C also helps your body absorb iron, a mineral necessary for hair growth, too!