McDonald's breakfasts have saved my life on multiple occasions. In college, it was the only breakfast I could afford. In my 20s, it was a life-saver when I was hungover and had to work (sorry boss!). And in my 30s, there's nothing like feeding the kids at the drive-through. But let's not it take this precious gift for granted. Mouth-watering, all-day egg sandwiches and golden hash browns are a luxury–and we intend to protect it.
We did a little digging to find out what you absolutely SHOULDN'T do when ordering off the McDonald's menu (mainly because it makes the employees stark mad):
READ MORE: The Scary Reason Why You Should Never Order A Breakfast Sandwich At McDonald's, Like, Ever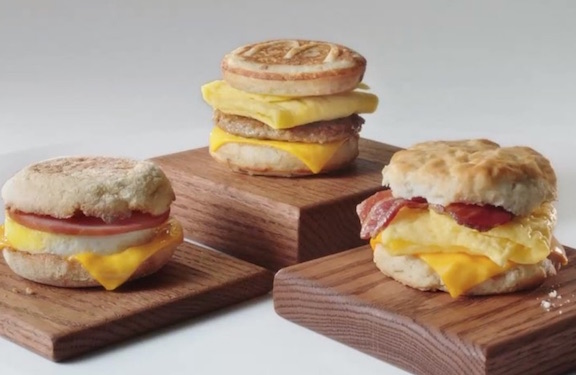 1. "I'm in a hurry" after 4pm: While all day breakfast was a revelation for the rest of us, it turns out that extended hours actually irk McDonald's employees. "Only (bleep) six people in the (bleep) country want a McMuffin at 4pm," revealed a former McDonald's employee on his Reddit AMA thread when ask what the worst part was of the all-day breakfast switch over. "Because of this, we made every breakfast order brand new. It would take forever so if a customer ordered 2 Hashbrowns, an Egg McMuffin, and an Orange Juice, it could take like 10 minutes to get the food out to them."
The same is true for ordering things like pancakes. Fun fact for the anglophiles: a McDonald's employee in the UK (where they don't have all day breakfast) explained that pancakes will take an especially long time to prepare after prime breakfast hours. "Sometimes we will have enough food left to make a couple of sausage and eggs McMuffins, but maybe not things such as pancakes and porridges."
So, bottom line is: if you're in a rush, and it's after prime breakfast hours (ie. 10:30am) consider ordering an item from not the breakfast menu. You'll get it faster, and you won't run the risk of pissing off your friends at McDonalds!
Plus, here's one more thing you should never do when ordering off the breakfast menu: get it late at night!

"Late at night, the food doesn't get sold as quickly," the Krazy Coupon Lady reveals. So you're chances of getting food that's been sitting out for longer is higher. Gross!
PRO TIP: Here's the one thing you SHOULD do when ordering off the McDonald's breakfast menu: order a "round egg" with your McMuffin sandwich!
This tip will save you $0.81, because a Sausage Egg McMuffin costs $2.99, but a Sausage McMuffin with a round egg added for $0.79 is just $2.18. #Winning