Have you ever thought about the effects pollution has on your skin? It's probably worse than you realize. Pollution accelerates aging, resulting in dark spots, wrinkles, and loss of elasticity, in addition to a whole bunch of other skin problems such as acne and eczema.
The toxins in the air break down proteins in your body, like collagen, which are responsible for keeping your skin looking supple, plump, and youthful.
At this point, you're probably wondering what you can do to help slow down these effects that pollution has on your skin. Luckily, there are certain skincare ingredients that have been proven to help. On, in particular, is SO good, it's sold every 3.1 seconds.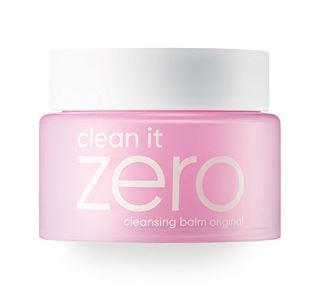 Banila Co Clean It Zero Original ($21)
The new Banila Co Clean It Zero Original is an award-winning Korean beauty cleansing balm that is so popular and effective, it sells ever 3.1 seconds globally. It's formulated with antioxidants--a vital anti-aging and anti-pollution ingredient--to purify, cleanse, and nourish your skin with every use.
It melts into a silky oil to remove makeup, dirt, dead skin cells, and other debris on your skin's surface, leaving behind a truly clean complexion. It's powerful enough to break down left on makeup, yet gentle enough for all skin times--and I know, because I tried it for myself.
The Banila Co Clean It Zero Original is made with four main ingredients: Acerola, a replenishing vitamin, Rooibos leaf, Angelica, which soothes, and Bamboo, which purifies. Also completely cruelty, paraben, mineral oil, sulfate, and alcohol-free, you can feel good about using this cleanser.
With almost a perfect 5-star review on Amazon and for only $21, you really can't go wrong with giving this product a try! This is the one cleanser that will clean, detox, firm, soothe, and nourish your skin, all while you're just washing your face.
Check out some of the rave customer reviews on Amazon:
"This product is great. My first delve into any of the Korean beauty products. This is not just for makeup remover. It is a face cleaner, it is thorough and leaves your skin super soft."
"I bought this and another brand of facial makeup remover. This brand does not burn your eyes you can open your eyes when you are cleaning. It removes every, every trace of makeup with very very little rubbing. it leaves a nice moisture barrier on your skin feels very soft and very hydrated. Would purchase again without any question."
SheFinds receives commissions for purchases made through the links in this post.