Every product in your skincare routine needs to be chosen carefully, especially when it comes to your night cream. The best night creams are the ones that are formulated with nourishing ingredients and work hard to repair the damage that your skin endured during the day. Need help finding the best night cream for dry skin? There's a new product on the market that can definitely help–it's the Rose Deep Hydration Sleeping Mask from Fresh!
Those will dry skin will benefit tremendously from incorporating this night cream into your nightly skincare regimen. In fact, dermatologists say that it can potentially help fight lines and wrinkles in the long run. "Dry skin is one of the first signs of aging. As we get older, sebaceous gland secretion decreases gradually, which can cause the skin to become drier and more prone to itching and discomfort," Dr. Michelle Henry, M.D., a clinical instructor of dermatology at Weill Cornell Medical College in New York City, says. "In fact, fine lines and wrinkles are more pronounced on dry skin so moisturizer is one of my favorite anti-agers."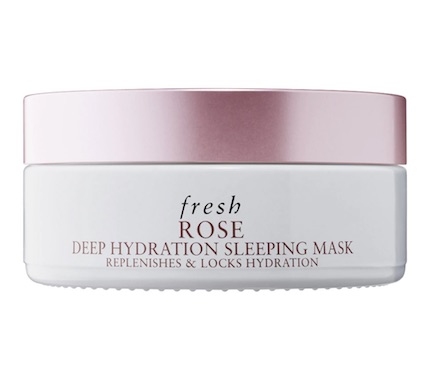 Shop Our Favorite Night Cream For Dry Skin
TRY IT: Fresh Rose Deep Hydration Sleep Mask ($50)
Shutterstock
Important Night Cream Benefits
- Delivers continuous hydration overnight to repair and strengthen the moisture barrier.
-Drenches skin with moisture and then locking it in for a supple, dewy look.
-Proven to give you the appearance of plumper, smoother skin after as little as one night of use.
Ingredient Breakdown:
Damask rose extract: Hydrates, smooths, and supports the skin's natural moisture barrier.
Advanced Time-Release Technology: Creates a tight-knit web on the skin's surface to gradually deliver moisturizing ingredients throughout the night.
Hyaluronic acid: Enhances suppleness with a plumping effect.
Shutterstock
Fresh Rose Deep Hydration Sleeping Mask Reviews:
"Tried it for the first time last night and woke up to amazing results after! My skin was supple and hydrated, and the product itself smells wonderful. I received this product complimentary for testing purposes" - sc2895
"Absolutely love this new product! It leaves my skin feeling super hydrated and super soft. I honestly can't believe how it actually smells like real roses! Not that fake rose smell. I will definitely be using this as my new night time routine." - LauraArbelo
"I received this product complimentary for testing purposes! Totally recommend. So I appreciate that the smell is not harsh since I'm sensitive to smells but that it's there. I wake up with my skin feeling refreshed and not oily which I also appreciate. It's a two step overnight hydration. I am used to water creams and this did not disappoint." - untamedcoral
Clinical Results:
In an instrumental test on 10 subjects, after one night of use:
- Hydration was shown to be locked in for 24 hours
In a self-assessment test on 60 subjects using for 1 month:
- 100% felt their skin was supple, dewy, and smooth
- 100% noticed the look of a full night's rest (aka not tired)
SheFinds receives commissions for purchases made through the links in this post.