This post was updated on 8/30/19. 
Nordstrom sales should be deemed national holidays. Their massive Anniversary Sale just ended, which might lead you to believe that they were done with deals for the summer–but no, that is definitely not the case. And this is why Nordstrom is everyone's favorite store: they just announced that they'll be running another promotion this season: the Summer Sale aka their Labor Day Sale! Ahhh–it's so good.
A Nordstrom rep had confirmed to SheFinds that their annual Summer Sale would take place on Friday, August 30th to Sunday, September 8, just in time for Labor Day weekend, and the day is finally here!
"We'll have summer styles, transitional pieces and fall essentials all up to 40% off, with amazing deals on some of our favorite brands," the brand tipped us off via e-mail. We couldn't wait!
Now that the sale is live, our editors are filling their carts with Joie, Rebecca Taylor, Stuart Weitzman, and more. Here's what we know that you need to know, too:
What Is It
The Nordstrom Summer Sale is a yearly event that takes place just in time for Labor Day weekend, and features a deep selection of recently-marked-down items. The retailer adds an undisclosed number of products to their coveted Sale section (let's just say, it's a lot) and per usual for the chain, the best deals don't stay in stock for long.
A rep for the retailer had confirmed to SHEFinds that they would be having their annual Summer Sale event from Friday, August 30th to Sunday, September 8. And now it's finally here!
READ MORE: Macy's Is Having A Huge Blowout Sale For Labor Day—& These Are Our Most-Wanted Picks!
Best Deals
Nordstrom always has a sale section (with plenty of under $50 finds, at that), but they're also known to occasionally expand discounts and add hundreds of items when they're running a special promotion.
The Summer Sale, Summer Clearance, or Labor Day Sale as it is also known, happens once a year in late August/early September and features up to 40% off designers like Nike to Sam Edelman, plus (as always) free shipping and free returns.
The sale is in stores and online, and prices are as marked. You don't need a promo code, as per usual for Nordstrom. There will be a special "Summer Sale" landing page to shop the select items. The sale is not sitewide.
And now that we know the exact dates, you can mark your calendars and start the countdown!
Rebecca Taylor for 55% off
The designer makes the most gorgeous floral print jumpsuits and dresses, but alas, they typically set you back $500. The Nordstrom Summer Sale is the perfect change to get her designs for more than half off.
REBECCA TAYLOR Ivie Floral Sleeveless Cotton Midi Sundress ($177.75, down from $395)
Joie sweaters and tops for 55% off
You can typically find Joie on sale places like Sake OFF Fifth and Nordstrom Rack, but it's usually the picked over styles. The Joie we just discovered at the Nordstrom sale is so good. We want everything!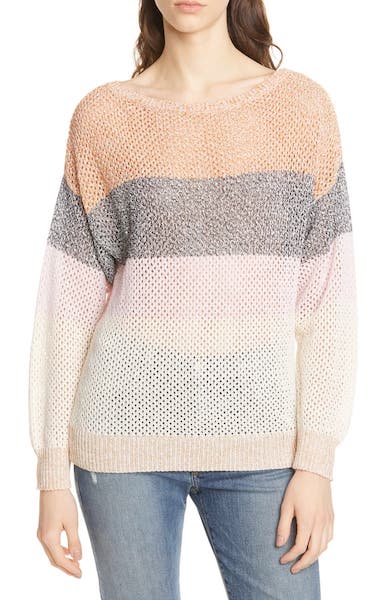 Joie Deroy Sweater ($134.10, down from $298)
Fall-friendly flats
Fall is sneaking up fast, so you'll need to start thinking about transitional pieces you can wear. These camel colored suede shoes are a tri-season shoe you can buy now and wear for many months later.
TARYN ROSE Felicity Flat ($65.25–$71.05, down from $144.95)
Zella Leggings
Nordstrom's house athletic brand Zella makes the best leggings–and when they're on sale (which is rarely!) they're even better.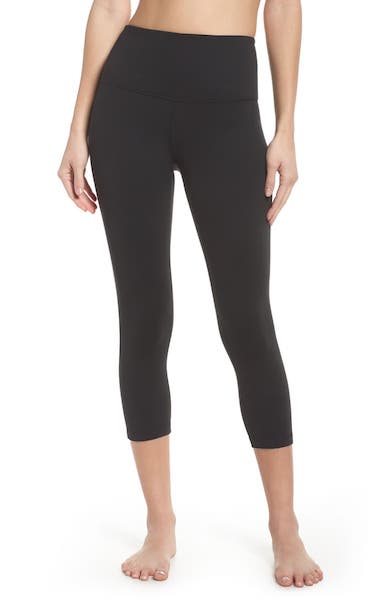 ZELLA Live In High Waist Crop Leggings ($32.40, down from $55)
Dresses Under $50
Nordstrom's bestselling Leith ruched body-con dress has countless customer reviews for being "flattering" and it also goes on sale regularly. Catch it at the Summer Sale for under $50.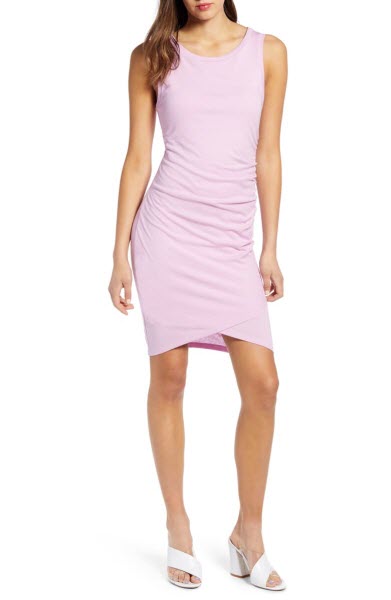 Leith Ruched Body-Con Tank Dress ($45, down from $56)
Madewell Jeans
Nordstrom has a solid Madewell selecton, and so when they run these promotions they always inevitably have Madewell styles included. Fans of the brand know that their flattering high-waisted jeans are rarely priced this cheap. Go, go, go!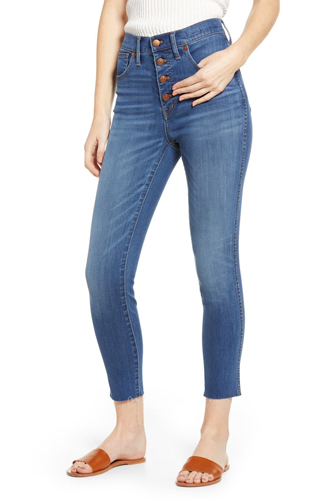 MADEWELL 10-Inch High Waist Button Front Crop Skinny Jeans ($89.99, down from $135)
Trendy Sandals
So many styles from Treasure & Bond, Sam Edleman, Nike and more–too many to choose just one. Here are a few of our favorites: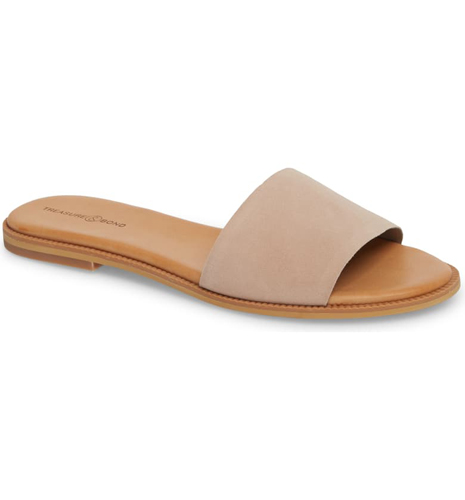 TREASURE & BOND Mere Flat Slide Sandal ($34.90, down from $59.95)
Nordstrom Summer Sale 2018
In 2018, the sale started on Friday, August, 31 and ran until Sunday, September 9.
Nordstrom Summer Sale 2017
In 2017, the sale started on Friday, September 1 and ran through Sunday, September 10.
Shop Nordstrom Summer Sale. Dates are 9/1-9/10, 2017. Hurry in for the best selection. pic.twitter.com/ixCU25Hpmn

— Stoneridge Mall (@ShopStoneridge) September 1, 2017
Nordstrom Summer Sale 2016
In 2016, the sale featured up to 40% off online and in stores through Sunday, September 11th. Prices started as low as $4.25.
https://t.co/NCpMeL9Wzo – Up to 40% Off the Nordstrom Summer Clearance Sale w/ Free Shipping Sale (nordstrom.c… pic.twitter.com/swj5PS6WlO

— Karen The DealHunter (@DigiDealHunter) September 2, 2016
When Is It
Labor Day is Monday, September 2 this year.
The Summer Sale is starting on the Friday before Labor Day Weekend and running through the holiday, into the September 8. It's like a jacked up Labor Day Sale, and we are #grateful.
In 2017, the summer sale started on Friday, September 1. Nordstrom tends to start their sales on Fridays, so this year is no different.
The sale will last ten days.
What To Buy:
SheFinds receives commissions for purchases made through the links in this post.