Black Friday is still two weeks away, yet the sales are starting now – at least for some of our favorite brands. Old Navy is hosting a Pre-Black Friday sale, which starts on November 20 and continues all the way until the official Black Friday deals drop.
So basically, from now until the end of the month, you're going to want to shop at Old Navy. From November 20 through 26, all jeans, sweaters and outerwear are 50% off in-stores and online… but then it gets even better (if you can believe it).
Old Navy's Black Friday 2019 sale is going to be a three-day event, starting on the Wednesday before Thanksgiving. Everything in stores and online, save for a few exclusions, will be 50% off from November 27 through November 29. This means that thousands of styles will be priced as low as $5! Plus, Old Navy cardmembers can get early access to the Black Friday sale and get 50% off their entire purchases from November 21 to November 24.
There's a mini sale going on amidst all of these discounts, too. On November 28 and November 29, Old Navy is also holding the "Shock of a Dolla" sale. Select Cozy Sock styles will cost just $1 per pair, both online and in stores, and Old Navy will donate the proceeds from these socks to Boys & Girls Clubs. Keep in mind, Old Navy's Cozy Socks make for excellent holiday gifts, and at $1 per pair you can get one for everyone on your gift list.
And the sales don't end after Black Friday. Old Navy is committed to making its Black Friday savings event longer than ever this year, so Cyber Monday really starts over that weekend, with what the brand is calling its Cyber Sale. Starting on November 30, you can get 40% off everything you buy online, or 50% off sweatshirts and hoodies. The brand is ramping up the Cyber Sale on Cyber Monday, December 2 with 50% off everything online.
So if you play your cards right, you can get just about everything you want from Old Navy for half off, or almost half off, the entire week of Black Friday. But with such a big sale, Old Navy Black Friday 2019 might even get overwhelming. We suggest you start making your shopping list now to make sure you don't forget anything.
Here's what we're making sure to shop: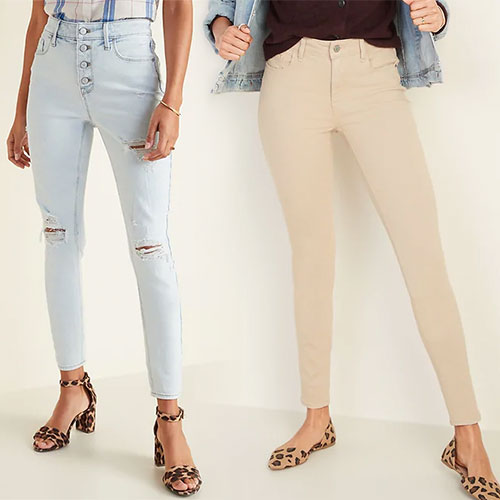 Jeans should be at the top of your Old Navy Black Friday 2019 list. They will consistently be on sale from November 20 through December 2, at either 50% or 40% off, depending on which day you shop. Denim is one of the things Old Navy does best, so you're going to want to stock up with these low prices.
The High-Waisted Distressed Rockstar Super Skinny Jeans ($49.99) are perfect for this season with their high-waisted silhouette, button fly closure and distressed details at the knees. We love the light-wash denim - it looks so nice paired against a cozy sweater (see below!) and flats. You can get these jeans for just $25 with Black Friday sales!
If you don't have a pair of colored denim jeans in your closet, Black Friday is your time to shop. You can get the Mid-Rise Pop-Color Rockstar Super Skinny Jeans ($34.99) for as low as $17.50. This Old Navy best-seller comes in olive, coral and cream colors and features a classic, mid-rise silhouette with a skinny leg.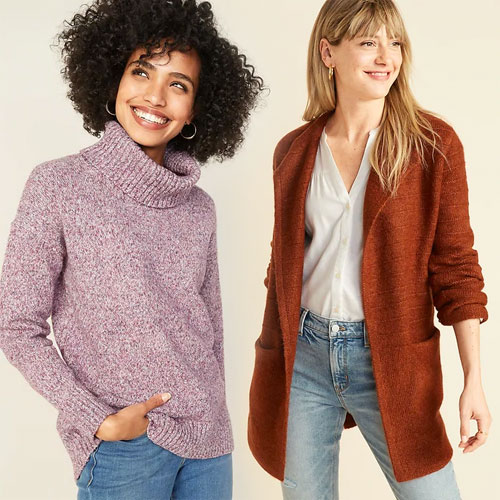 Next stop: sweaters. You're going to need a lot of sweaters to get you through the cold months ahead, so Black Friday 2019 is the perfect time to load up. This Slouchy Turtleneck ($49) comes in a trendy pink shade with ribbed knit at the neck and hems. All you need with this cozy sweater is a pair of great jeans (see above!), plus it will only cost $25 on Black Friday.
Another staple for this season, the Relaxed Cardi Coat ($50) is your key to no-hassle layering. It has a relaxed shape and structured fit at the same time, so it will smarten up any simple look you throw it over. It has pockets, comes in black, amber and gray, and will cost just $30 during Black Friday sales.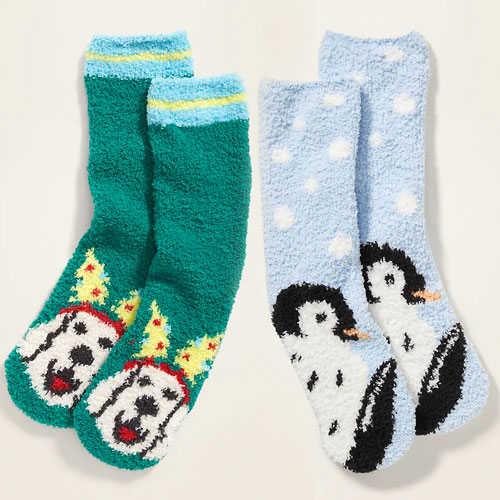 And before you go, you will need to get as many Cozy Socks as your shopping cart can handle. Made from soft, plush chenille, this comfy socks really live up to their name. Each style features a cute, seasonal graphic print so will be hard to pick just one pair. Luckily, at $1 per pair on November 28 and November 29, you can get every print you like.
Old Navy Cozy Socks ($5.99)
SheFinds receives commissions for purchases made through the links in this post.