This post has been updated on 6/5/19 to reflect the announcement of the sale. 
Old Navy's One Dolla Holla Sales are epic. The brand puts items like fuzzy socks and colorful flip flops at a price that anyone can afford–and we love them for it. Their flip flop version of the sale is the best of them all and has been going on for years (since 2005). Yes, this annual event is kind of a big deal.
So, when is the 2019 sale happening? The company just released all the details!
It's official: the sale will be called the One Dolla Balla sale this year and will take place on Saturday, June 15th both in-stores and online. Squee!
But that's not all–before noon, every customer who purchases at least $24 of merchandise will receive a free pair of flip flops! Also, they're running an incredibly exciting promotion in stores with the chance to win $24,000. Every store will have a pair of golden flip flops hidden, and when customers spot them they enter the sweepstakes for a chance to win the $24K prize and will also receive a 24% off code (online) or $24 coupon (in-stores). Yes, the flip flops will be hidden online too. This is like Willy Wonka's golden ticket for adults!
What Is The $1 Flip Flop Sale?
The sale features the brand's classic, solid-colored rubber sandals for just $1, down from $3.99. The sale comes just in time for summer, when customers are eager to stock up on flip flops for the whole family. Old Navy has been running this promotion since 2005, but they made a few big changes to the sale in 2018. For one, it is no longer available online (gah!). Also, the sale has been renamed the Flip Flop One Dolla Holla Sale. They also added more colors and offered printed flip flops for $2. Wow!
https://twitter.com/OldNavy/status/1008726149546086400?ref_src=twsrc%5Etfw%7Ctwcamp%5Etweetembed%7Ctwterm%5E1008726149546086400&ref_url=https%3A%2F%2Fwww.wtsp.com%2Farticle%2Fnews%2Fnation-world%2Fget-1-flip-flop-during-old-navys-annual-one-dolla-holla-sale-on-saturday%2F507-566889894
When Is The Sale?
The Old Navy Flip Flop One Dolla Holla Sale takes place on the third or fourth Saturday of June. In 2018, the sale was on Saturday, June 23. In 2017, it took place on Saturday, June 2. In 2016, the sale went live Saturday, June 18. A rep for Old Navy did not immediately reply, but we are looking forward to the sale taking place on Saturday, June 15, 2019 or Saturday, June 22, 2019.
How Can You Get Early Access?
Old Navy Credit Card holders get early access to the sale, two or three weeks before it's open to the public (usually the last weekend of May). Cardholders must use their Old Navy card to complete the purchase. The Old Navy card is also good for earning 5 points for every $1 spent at the store.
Is There A Limit Per Customer?
There is a limit of 10 pairs per customer, so you'll have to keep this to your inner circle. Luckily, that number works for most large families and even for bridal parties, too. Stock up on day-of flip flops for all your bridesmaids! The limit does mean that you won't be able to buy *all* the pairs for your wedding guest favors or sorority pledge class–sorry.
Is The Sale Online Or In-Store Only?
Since 2018, this epic sale is available in stores only. Check your local Old Navy store to find out their Saturday hours so you can plot your attack on the sale. Be there first or risk missing out!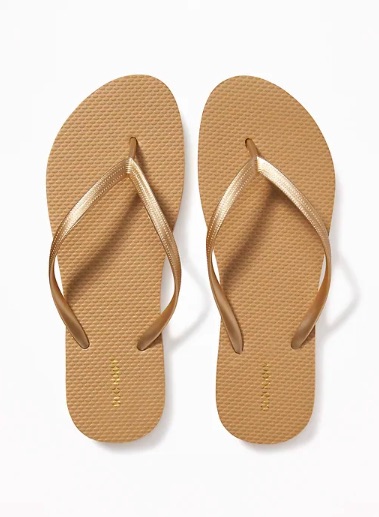 Old Navy Classic Flip-Flops for Women ($1, down from $3.99 at the One Dolla Holla Sale)
We'll be stocking on the women's pairs at the sale, which like men's and kid's will be just $1 for one day only in June.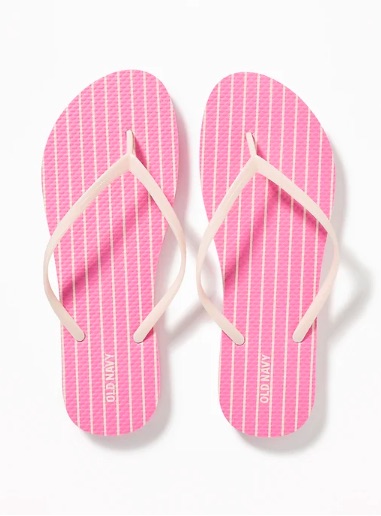 Patterned Flip-Flops for Women ($2, down from $4.99 at the One Dolla Holla Sale in June)
Last year they added patterned styles for $2 to the sale.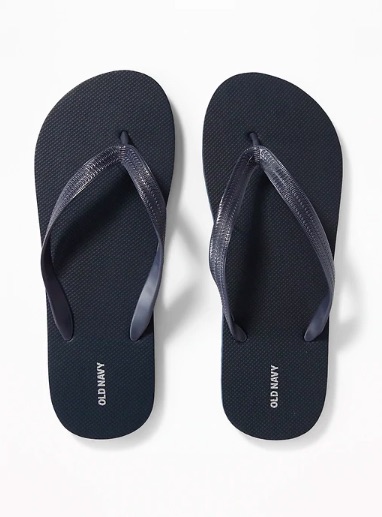 Classic Flip-Flops for Men ($1, down from $3.99 at the One Dolla Holla Sale in June)
Men's styles, which feature a wide strap, will also be available for $1 at the sale.
SheFinds receives commissions for purchases made through the links in this post.