Let's get something straight: "Studies show that people who eat breakfast are more successful at losing weight – and maintaining their weight loss – than those who skip it," says Colette Heimowitz, a nutritionist with Atkins Nutritionals. If you have to rush, please do not leave the house without bringing along a healthy breakfast. It's not ideal to eat while distracted but a morning meal is that important! Heimowitz says your breakfast goals should be to control carbs and sugar and get sufficient protein, fiber and healthy fats. This will make sure you stay satiated and energized. Use these recipes for inspiration.
Peanut Butter & Jelly Date Smoothie, Minimalist Baker
Many of the pre-made or made-to-order smoothies in cafes are loaded with sugary fruit juice, "healthy" add-ins and protein powders that have a laundry list of unpronounceable ingredients. Making a smoothie at home is simple and insures you know exactly what you're sipping. Feel like a kid again when you drink this take on the classic peanut butter and jelly sandwich. Nut butters provide protein but we're often warned to stay away from them. Why? Some people (yes, us) can't help eating the entire jar in one sitting. This smoothie is a good way to have your nut butter without going overboard. The sweetness comes from pitted dates and anti-inflammatory blueberries (we love the frozen wild variety). Sub in any berry that reminds you of your fave jelly. And don't leave out the flax seeds. They have a high concentration of plant-based omega-3s that have been shown to increase good cholesterol and decease the bad. It also reduces inflammation and in turn reduces storage of fat. Flax doesn't have a potent taste so you won't compromise the flavor of your smoothie.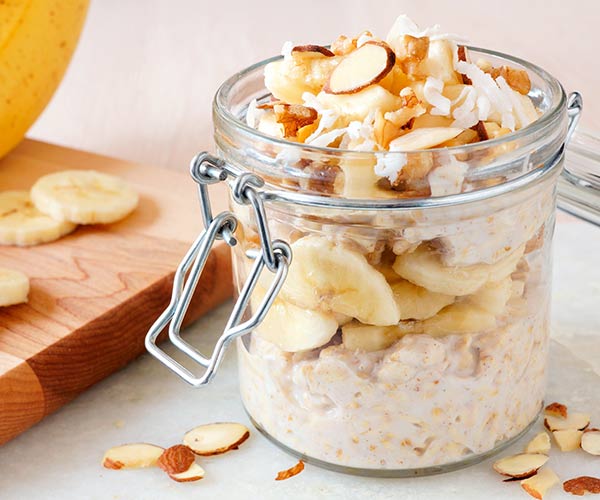 Overnight Quinoa & Oats, Chelsea's Messy Apron
Your slow cooker isn't just for dinner. There are so many mornings that we want a hot breakfast but lack time. Clearly we all have time to prep and set before bed. It's brilliant! Use a combo of two major fiber players – quinoa and steel-cut oatmeal - to keep you satiated and help you digest. Using both makes the meal more interesting and gives you a variety of nutrients. Grab a covered container in the morning and you're set. Load up your cooked porridge with healthy, anti-inflammatory add-ins like berries, cinnamon, almonds and chia seeds.
Healthy Sausage And Egg Sandwich, The Lemon Bowl
There is no sandwich more revered than the classic egg and cheese on a roll. But the egg is the only part that's actually good for you. One egg has 7 grams of protein plus vitamins, minerals and anti-inflammatory omega-3s. Eggs keep your blood sugar steady and provide nutrient-dense energy to keep you satiated. Take away the bulky, white flour roll, ditch the processed slice of American cheese and reunite with your beloved. This revamped McDonald's Egg McMuffin will take you only 4 minutes to prep and cook. The eggs and veggies sausage go in the microwave while you slice some tomato and toast the sprouted whole grain English muffin. Wrap it in tinfoil if you have to jet, and it will stay warm until you can dig in.
Freezer-Friendly Egg Sandwiches, The Kitchn
The idea of frozen eggs sounds skeevy. We're egg purists. But there are mornings, afternoons and evenings we just don't want to cook. There are even times friends pop over and we have nothing to feed them. That all changes now. You basically scramble up a whole load of eggs, or bake them in the oven, and combine with your fave veggies. When done, slice them into "rounds" using a biscuit cutter or the bottom of a glass. Assemble them on your healthy bread of choice, swipe on some protein-packed goat cheese and then freeze.
[Photos: Shutterstock]