One of the reasons I don't cook more is because of the dish situation. There are so many pots, pans and utensils to clean when you're done. It can truly be a deterrent for a home cooked meal.
If a sink full of dirty dishes is not your idea of a good time, one way to work around this is to stick to one-pot meals only. This is a good rule for any busy household–if it can't be made in one pot, then it's not on the menu. Period.
Emmy award-winning Chef Ryan Scott (host of Food Rush and former Top Chef contestant) is also a proponent of the one pot method. We spoke with Chef Scott to learn some waist-friendly recipes anyone can make this week. From yummy salmon to snap pea salad, you won't believe how delicious and simple these seasonal recipes are.
And for more one pot recipes, check out the digital cooking classes on Craftsy.
1. Snap pea, charred corn, and quinoa salad


Ingredients:
Dressing
● ¼ cup water
● ¼ cup white balsamic vinegar
● ¼ cup Dijon mustard
● 1 teaspoon salt
● ½ teaspoon pepper
● 2 dashes hot pepper sauce
● ½ teaspoon honey
● ½ cup vegetable oil

Salad
● 1 cup green herbs, chopped you have left in your fridge (basil, flat leaf parsley, tarragon, chives)
● Salt and pepper to taste
● 2 cups quinoa
● ¾ cups feta cheese, crumbled
● 2 cups snap peas, cleaned and sliced
● 1 16-ounce bag charred corn (can buy frozen), thawed
Recipe:
Dressing:
Add water first, then oil, vinegar, mustard, hot pepper sauce, followed by remaining dry ingredients into a blender.
Turn on blender, wait for dressing to fully emulsify. Turn off blender and refrigerate dressing, or use immediately.
Salad:
Thaw and drain any liquid from charred corn.
Follow directions for cooking bag of microwave quinoa. Once cooked, add to a medium bowl.
Julienne raw snap peas into thin strips. Add snap peas, corn, and green herbs to quinoa.
Around the perimeter of the bowl, add white balsamic. (Only use half the dressing first — if you want more you can always add later.)
Stir everything into the dressing, incorporating evenly. Once mixed, gently fold in crumbled feta cheese.
Garnish with reserved herbs and serve or refrigerate and serve later.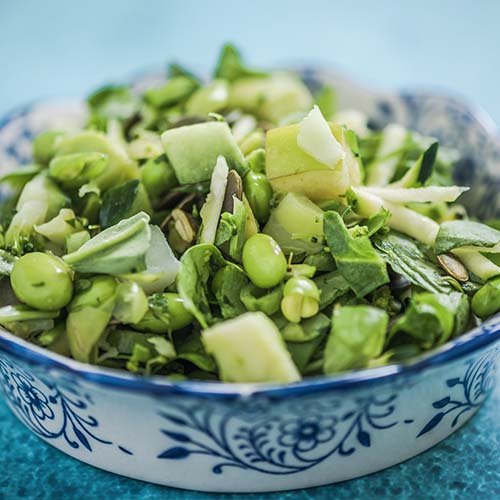 Snap pea vegan caesar salad


Ingredients:
● 2 pounds snap peas, sliced and shaved
● 1/4 cup soft tofu
● 2 tablespoons white balsamic vinegar
● 2 tablespoons water
● 3 tablespoons whole capers, drained
● 4 cloves garlic, microplaned
● 1/2 teaspoon Tabasco sauce or other hot sauce
● 1/2 vegetable oil or soy bean oil
● 1 teaspoon kosher salt
● 1 teaspoon black pepper
● Toasted or smoked almonds, finely chopped
Recipe:
Trim and clean the snap peas, then cut them on a diagonal, making thin slivers. Place the sliced snap peas in a large bowl and set aside.
In a blender, add the tofu, vinegar, and water. Pulse until smooth. Add the capers, garlic, Tabasco, oil, salt and pepper and puree until smooth.
Pour the dressing on the rim of the bowl with the snap peas and then toss together, making sure every pea is coated in the dressing. Add the almonds on top of the salad and serve immediately.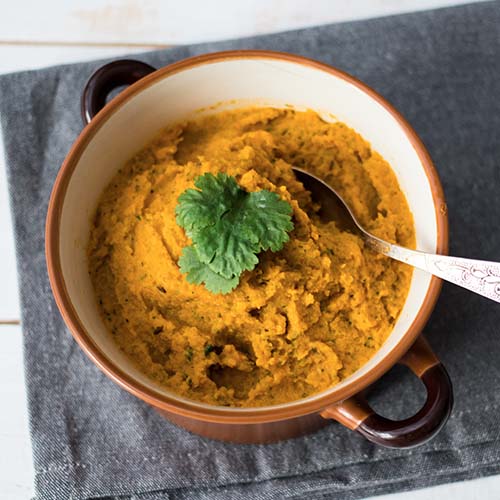 Carrot Hummus


Ingredients:
10 carrots
2 Tbsp. canola oil
1 1/2 cups diced yellow onion
1 Tbsp. ginger paste
1 Tbsp. garlic paste
2 tsp. cumin
2 tsp. kosher salt
1 tsp. garlic powder
3/4 cup olive oil
1/2 cup tahini
1/4 cup lemon juice
2 dashes hot sauce
Sesame seeds (for garnish)
Cilantro (for garnish)
Feta (for garnish)
Recipe:
Peel carrots; trim 1/2" from each end. In a stockpot, bring a few inches of water to a boil.
Arrange carrots in a steamer basket in pot; cover. Steam until tender. Place carrots in ice water for 3 minutes, drain, chop and set aside. In a skillet, heat canola oil over medium-low heat.
Add yellow onion, ginger paste, garlic paste, cumin, kosher salt and garlic powder. Cook until onion is translucent. Add 1/2 cup water and cook 1 minute, stirring.
In a food processor, blend onion mixture, carrots, olive oil, tahini, lemon juice and hot sauce. Garnish with sesame seeds, cilantro, feta and a drizzle of olive oil.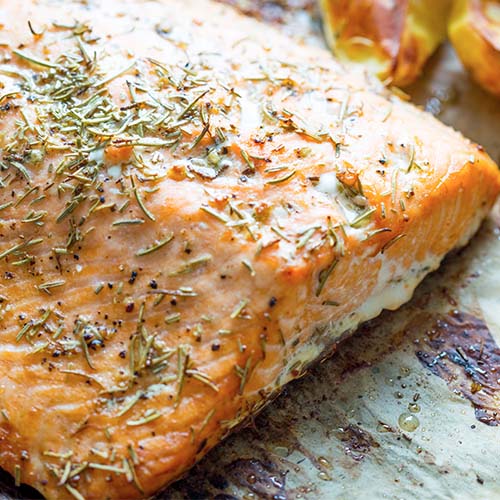 One pan baked salmon


Ingredients:
● 1/2 cup diced red onion
● 2 tablespoons minced jalapeño, seeded
● 1/3 cup packed chopped Italian parsley
● 1/3 cup chopped chives
● 1/3 cup chopped fresh dill
● 1/2 cup whole-grain mustard
● 2 tablespoons garlic paste
● 5 dashes hot sauce, preferably Tabasco
● 2 lemons, juiced (about 1/3 cup) and zested (about 2 packed teaspoons)
● Extra virgin olive oil
● 1 teaspoon freshly ground black pepper
● 3 teaspoons kosher salt, divided
● 6 cups (about 15) multi-colored baby peppers, tops cut off
● 4 cups green beans, cleaned
● One 1½- to 2-pound fillet salmon, skin removed
Recipe:
1. Preheat broiler to medium-high heat. Line a baking sheet with foil and place in the oven for 5 minutes.
2. In a mixing bowl, add onion, jalapeño, parsley, chives, dill, mustard, garlic paste, hot sauce, lemon juice and zest, 1/3 cup olive oil, black pepper and 2 teaspoons salt. Mix until incorporated.
3. In a separate bowl toss the green beans and peppers, with the remaining 1 teaspoon salt and 2 teaspoons olive oil, and mix.
4. Remove the preheated foil-lined baking sheet from the oven, and place the green beans and baby peppers on the tray. Return tray to broiler and cook for 15 minutes on the middle rack.
5. Remove peppers and green beans from broiler. Set oven to 225°F.
6. Place the salmon fillet on top of peppers and green beans, from corner to corner so the whole fillet will fit. Slather the salmon with the mustard mixture, coating evenly. Place tray into oven and cook for 50-60 minutes.
7. Serve immediately, or let it sit for 10-15 minutes and enjoy at room temperature.