Overdoing it with any type of food leads to weight gain. "A diet of fried foods, refined flours, sugars, and products with hormones and synthetic sweeteners all contribute to inflammation which builds up belly fat," says Cara Walsh, a dietician at Medifast Weight Control Centers of California. Guilty as charged. But there are certain types of foods you can indulge in throughout the day with little risk of a bulging belly. "Many fruits and vegetables are great low calorie options – not exactly zero – but less than 100 calories," says Jenny Dang, RD, the founder of Eat Your Dang Veggies. They're low-cal plus have high fiber and water contents. These types of foods are "bulky", meaning they take up a lot of room in your belly so you don't feel hungry until your next meal (adios mindless munching). Replace high calorie snacks and ingredients with these healthy choices.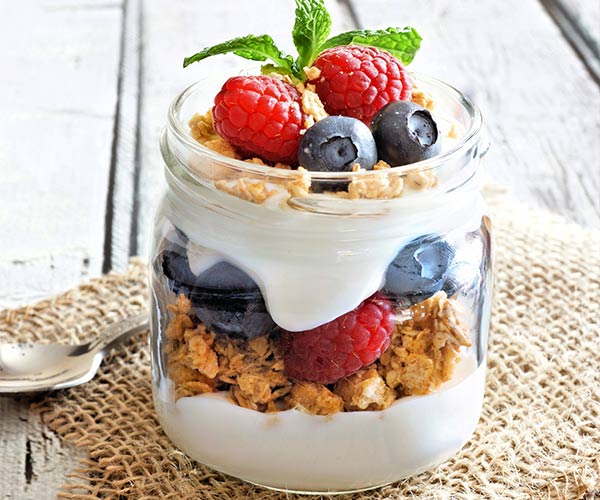 Fruit is known as a great source of fiber. "Fiber offers huge benefits to your health, from controlling your appetite and regulating blood sugar to helping your digestion," says Colette Heimowitz, a nutritionist at Atkins Nutritionals, who says we need to consume 25 to 35 grams of fiber daily. Berries are outstanding (a half cup of raspberries gives you 4 grams of fiber, blackberries 3.8 and blueberries or strawberries 1.7 grams). Kiwis are right up there with 2.7 grams of fiber. Plus they're beautiful! Melons, specifically watermelon and honeydew, rank as some of the lowest carbs per serving. Plus they have the highest water content of all melons to keep your body hydrated and feeling satisfied.
This is not permission to drink juice. Whole fruit has lots of benefits that are lost when it's in liquid form. Citrus varieties like grapefruits and oranges are high in vitamin C with only about 70 calories in an entire fruit. Studies have found that people with ample vitamin C levels have smaller waist-to-hip ratios and burn more fat during cardio exercises. Brainstorm creative ways you can add more citrus to your diet. Try peeling a clementine and adding it to salad or snacking on it along with a handful of almonds. Add a few segments of grapefruit to avocado toast or make citrus salsa for your baked fish tacos.
And as for veggies, the phytochemical composition of greens likes spinach may have potent effects against fat cells. Spinach is 7 calories per cup and offers vitamin K, calcium, potassium, zinc and selenium. These nutrients can help ward off hunger and stop snacking between meals. Red (yellow and orange) bell peppers are a sweet and crunchy vegetable that provides 240 percent of the recommended daily vitamin C. They're loaded with fiber and one entire pepper has 31 calories. And since we all love things that crunch, try celery. There are only 6 calories in each stalk along with vitamin K, vitamin A, folate and potassium.
Eating a bag of lettuce is misguided and you will quickly be hungry again. "Always accompany fruit and veggies with protein and/or fat such as nuts or cheese to slow any negative impact of the natural sugars on blood-sugar levels," says Heimowitz. Now think about swapping out tortillas for lettuce cups. Yum! Pack your instantly healthier wrap with a balance of high-fiber carbohydrates like beans, moderate protein like chicken, and healthy fats like avocado. Try to get creative with food combos like these great pairings: apple slices and natural almond butter, red peppers and hummus, broccoli with quinoa, berries with plain yogurt and cucumbers with no-mayo tuna salad.
[Photos: Shutterstock]