It's hard to believe North West will be 4 years old this June. She made an appearance on Kim Kardashian's Snapchat yesterday and we can't get over how grown up she looks!
With her gorgeous curly hair and cute little jean jacket, Northie pretended to be a dog with her mom. How adorable does she look?? You can watch all the snaps here.
[Photo: Instagram]
Prince William and Kate Middleton's family Christmas card is finally here! Twitter users shared that they received the card, which features a shot of the family from their trip to Canada last September.
Prince George and Princess Charlotte look completely mesmerized by the man making balloon animals while being held by their parents--does it get any better than that? We're loving their choice of a candid shot this year!
[Photo: Twitter]
Although Blake Lively gave birth to her and Ryan Reynolds' second daughter back in September, and their first daughters, James, in 2014, we have yet to see pictures of them... until now!
The adorable family was all in attendance when Reynolds' received a star on the Hollywood Walk of Fame. We can't get over how much James, 2, looks like her mama! And Ryan holding his littlest is just too cute. We hope to see more of this crew soon!
[Photo: Splash News]
Olivia Wilde and Jason Sudeikis welcomed their second child, Daisy Josephine Sudeikis, on October 11, and they can't stop gushing over her! The actress shared this adorable photo of the newborn with the caption "?." We'd say that pretty much sums it up!
[Photo: Instagram]
We haven't seen much of Saint West since he was born in December 2015, but this might just be his cutest photo yet. Kim Kardashian shared a sweet Snapchat video of her son at his great grandmother's birthday (get it, MJ!!). He's just chilling in his baby seat with some toys, laughing at something that would probably make any 7-month-old chuckle, and then he notices he is being filmed by his mom and his expression immediately changes to curiosity. Adorable! Saint, this is just the beginning of your on-camera life, FYI...
[Photo: Snapchat]
Lil' Kim brought her daughter Royal Reign, 2, to the VH1 Hip Hop Honors: All Hail the Queens! The adorable tot made her red carpet debut wearing a sick gold leather jacket, because, of course. Lil' Kim was honored as a trailblazer for female MCs and gave a sweet shout-out to her girl in her acceptance speech. "My beautiful baby, Royal Reign, is in the building," she said with a huge smile on her face. So cute to see this mother-daughter duo!
[Photo: Mayer RCF / Splash News]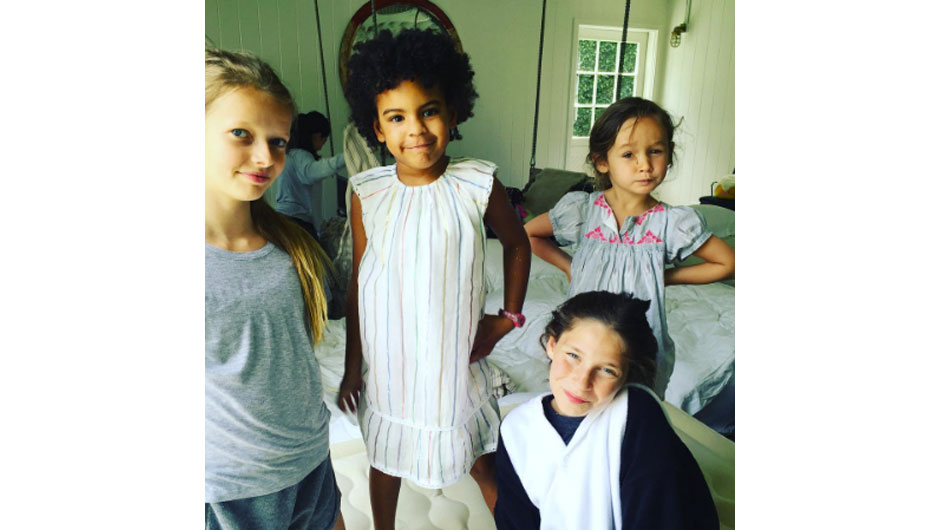 Talk about #squadgoals. Apple Martin celebrated her 12th (!!) birthday this weekend with none other than Blue Ivy! Gwyneth Paltrow snapped this pic of her and Beyoncé's daughters with the caption, "Birthday brunch squad #godsistersandbesties." This definitely looks like a sleepover party with the girls in their PJs and air mattresses and blankets all over the floor. How fun!
[Photo: Instagram]
It's hard to believe but Princess Charlotte turns one today! The royal family released new portraits of the 1-year-old and, shocker, they're absolutely adorable. To celebrate her big day, Charlotte posed for four photos that show her walking, smiling and wearing precious pink and blue outfits (topped off with hair bows!!). You can see all the pics here.
[Photo: Twitter]
For her 90th birthday, Queen Elizabeth II posed for a portrait with her five great-grandchildren and two youngest grandchildren. Princess Charlotte clearly is the star of this photo sitting on the Queen's lap! How cute are their matching pink cardigans?! Prince George is also looking as adorable as ever wearing his favorite shorts and high socks combo.
[Photo: Annie Leibovitz]
John Legend followed up Chrissy Teigen's first photo of baby Luna with another sweet shot of his daughter. The singer posted a close up of his newborn to Instagram with no caption--her cutness speaks for itself!
[Photo: Instagram]
Kim Kardashian shared the second picture of Saint West today and he is such a cutie! "You're the sun in my morning babe," Kim captioned the Instagram picture of her baby boy. Three-month-old Saint looks just like his big sister North! Side note: he already has an amazing jawline. Hopefully Kim will continue to share pictures of him!
[Photo: Instagram]
The Duke and Duchess of Cambridge have shared new photos of their happy family! They spent their first holiday together as a family of four on a snow-filled ski trip. This was the first time Prince George and Princess Charlotte have played in the snow and they seem to be totally loving it! Best. Family. Ever.
[Photos: Twitter]
Jessica Simpson shared this cute picture of her daughter Maxwell being a total diva. "'My milkshake brings all the boys to the yard and they're like it's better than yours...' #MAXIDREW," Simpson captioned the Instagram picture. Three-year-old Maxwell sure knows how to deliver a mean side eye. She's so cute!
[Photo: Instagram]
Move over North West and Penelope Disick, there's a new duo in town! Gwyneth Paltrow shared this adorable picture of her and Chris Martin's daughter, Apple, holding hands with Beyoncé and Jay-Z's daughter, Blue Ivy, just before Super Bowl 50. "#superbowl50 jacket game," she captioned the Instagram snap. The two girls were showing support for their parents before they took the stage to perform the Super Bowl halftime show. So cute!
[Photo: Instagram]
Jessica Biel shared a rare photo of Baby Silas this morning via Instagram. Granted, we can't see his face, but this playful photo is just enough. Biel and hubby Justin Timberlake rarely share photos of Silas, so this is a welcomed sight! Plus, she even revealed their morning routine, which involves eating together and listening to music. AW!
[Photo: Instagram]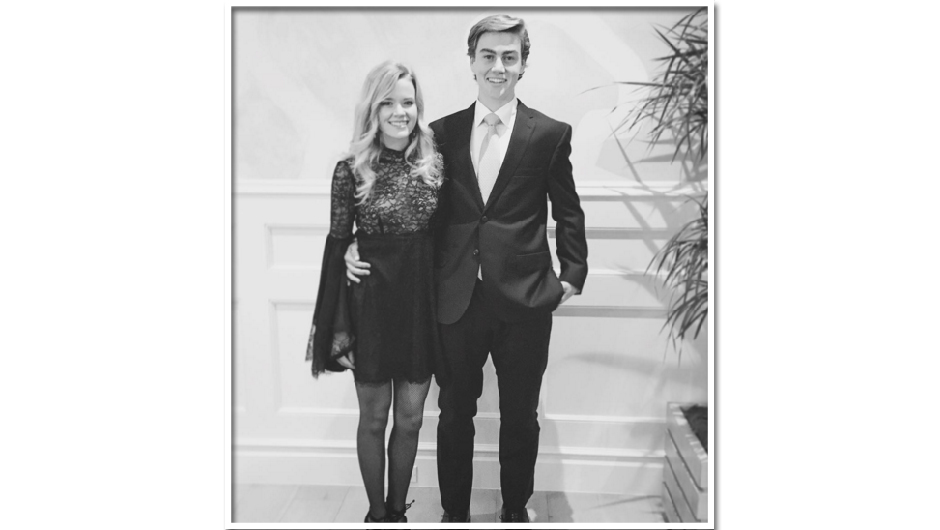 Ava Phillippe is 16 years old but, like, HOW? Doesn't it feel like just yesterday she was a child?? Well, the daughter of Reese Witherspoon and Ryan Phillippe is all grown-up and going to FORMAL. She posted this photo to Instagram with her date. Man, does time fly.
P.S. Ava's dress is the Nasty Gal Hi-Neck Software Lace Dress ($98), in case you want to cop her look.
[Photo: Instagram]