A meal without protein will leave you feeling lackluster. We all need protein to get energized, build muscle and feel happily full, especially in the morning. Look at the word breakfast. Split it in two: break fast. That's what you're doing in the a.m. After a night of restful sleep your body needs to refuel for the day. A slice of toast and a banana while running out the door isn't going to cut it. You'll be hungry before lunch and packing on snacking pounds. But enjoying a healthy protein like oatmeal at breakfast can help prevent weight gain.
In ¼-cup of oats there's 5 grams of fiber and 7 grams of protein. The fiber is part soluble – it slows digestions and makes you feel satiated –and insoluble fiber – the kind that helps you get smooth moves (wink). "Regular and healthy bowel movements reduce belly bloating and improve digestion," says Abbey Sharp, RD, of Abbey's Kitchen. And yes, oatmeal is a carb and that's perfectly fine. Everyone needs carbohydrates! In fact, the right ones can actually help you slim down. "Good carbs are rich in fiber so they release energy into the blood stream slowly and help you avoid spikes in insulin and blood sugar," says Sharp. "The fiber keeps you feeling fuller longer, so it may assist in reducing fat around the belly by helping you avoid hungry snack attacks."
Make sure you choose steel-cut oats over rolled or instant. They're not pre-cooked and are processed in a manner that helps them maintain more fiber and protein than other versions. Plus the hearty, chewy feel of steel-cut oats helps you to slow down breakfast and feel full. We know instant oats sounds really appealing – they're instant! But once you make the switch to steel-cut oats you'll never go back. They need a little more time to prep but it's not difficult. We soak them in a bowl of almond milk overnight –delish! Or let them warm up overnight in the slow cooker.
Don't mess up a perfectly healthy bowl of oats with a lot of sugary junk that will turn into fat. Sharp suggests you avoid sweetening with syrup and opt for natural flavors found in berries, grated apples or ripe mashed bananas. Blackberries, blueberries and raspberries are high in fiber and will make you feel full and satisfied. They're bursting with natural sweetness and you can eat way more of them without worrying about the scale. For example, one cup of slices strawberries is only 50 calories. A half-cup of raspberries gives you 4 grams of fiber, blackberries 3.8 and blueberries or strawberries 1.7 grams. All berries are high in polyphenols, micronutrients that combat cellular stress by slowing down and blocking the inflammatory response in the body.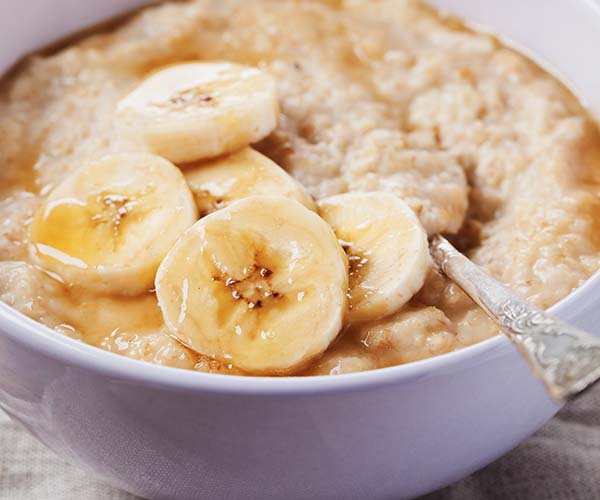 "Adding some fat or protein to oatmeal will further slow down absorption and stave off snacking," says Sharp. Try toppings such nuts, seeds, flax, chia or Greek yogurt. We also love her recipe for balancing out the carbs in oatmeal with protein: making proats, as in protein oats! Whip frothy egg whites into oats for a creamy, fluffy breakfast. Yum! Or enjoy your morning oatmeal in a smoothie with this simple recipe. Include additional protein from almond milk and a plant-based protein powder. Tip: The ingredients call for a frozen banana. This will make the smoothie thick and rich. But if you prefer a thinner sip, just grab a 'naner from the fruit bowl.
[Photos: Shutterstock]