No offense to protein shakes, which are fantastic supplements, but the best way to absorb nutrients is through whole foods — and these four proteins you should eat for a natural energy boost are all delicious and nutritious ways to feel more energetic.
Protein is essential because it builds, repairs, and maintains cells and tissues in the body. With it, you'll lack the energy you need to both perform simple tasks and hit the gym for that strength training class. You'll find protein in animal and vegetable sources like meat, eggs, seeds, fish, and beans. And, while you can certainly get some protein from that protein bar or shake, these foods are a natural source of protein that haven't been processed or full of sugar. Enjoy them a few times a week and reap their many benefits, which include an energy boost that will make you feel your best.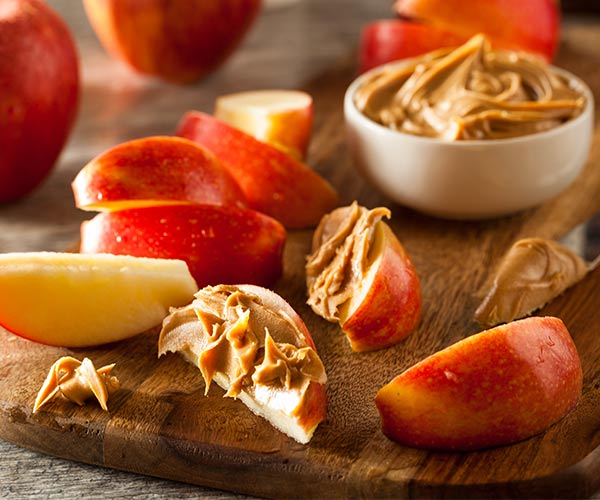 Peanut Butter
Peanut butter sometimes gets a bad name because some brands contain a little too much sugar to make up for their protein content. But if you search for natural peanut butter brands that are low in sugar or peanut powders that can be mixed with water, your health will benefit from eight grams of protein for every two tablespoons.
Grilled Chicken
A lean chicken breast (or the equivalent of one cup of grilled chicken cubes) contains an amazing 43 grams of protein and just 230 calories and five grams of fat, making it one of the most balanced and healthy sources of protein on the block. Add chicken to kebobs with veggies like zucchini and tomatoes and you've created a vitamin and mineral-packed meal that's totally satisfying.
Eggs
Eggs are considered nutrient-dense foods, which means they contain a slew of minerals and vitamins and are low in calories and fat. One egg with the yolk, which is a rich source of vitamin B12 and protein, has seven grams of high-quality protein and just 75 calories.
Salmon
Generally speaking, fatty fish that contain omega-3 fatty acids provide numerous benefits to your brain, bone health, heart, skin, and can even prevent cancer. And salmon is king. A four-ounce portion of the tasty fish has 53 percent of your daily requirement for protein, as well as vitamins B12, D, B3, B6, selenium, and phosphorus. Eating salmon a few times a week will provide more short-term energy and long-term health benefits.
For more tips on protein, check out 4 Anti-Inflammatory Proteins You Should Eat To Blast Belly Fat and 5 High-Protein Slow-Cooker Recipes You Should Eat For Low Energy on SHEFinds.com.
Photos: Shutterstock