You're starving at all times. You spend more time at the gym than you do at work. And yet the scale hasn't moved in weeks. You're about to give up and aren't sure what to do next.
So, what's stalling your weight loss? For starters, starving is a no-no (for health and weight loss reasons). But there could be other culprits at play — including these four surprising reasons you're not losing weight.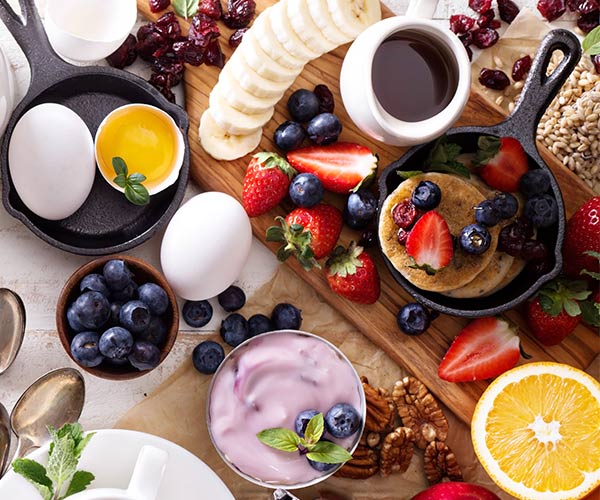 You're Skipping Breakfast
The first meal you eat when you wake up is the most important because it provides fuel you'll need to take you from morning until afternoon and sets the tone for the rest of your day of eating. Unfortunately, breakfast is often an afterthought, especially if you're in a rush, and a sugary fruit or granola bar really doesn't cut it.
Make breakfast the meal you think most about and make sure it contains protein, healthy fats, vitamins and minerals, and unrefined carbs like steel-cut oatmeal and whole-wheat panncakes.
Your Workout Isn't Intense Enough
Yoga is amazing for your body. But if you're only taking yoga classes or walking at a slow pace, your body may not be burning enough calories to help you lose weight. Add a few minutes of running to your walk, take a high intensity interval training group class that includes bursts of cardio alongside strength training, or change things up with a spin class. To lose weight you have to burn more calories — cardio will help.
You Aren't Eating Enough Protein
We often make the mistake of cutting out too many protein-rich foods when we're trying to lose weight. But following a diet regimen that includes low-fat foods doesn't always provide the energy your body needs to help you burn fat. Whether you're a carnivore or vegan, it's crucial to fill your diet with protein.
You Aren't Sleeping Enough
Your diet and exercise routine may be flawless. But if you're skimping on sleep, your weight loss goals can suffer. Getting a quality seven to nine hours a night gives you more energy the next day (which helps burn calories) and burns more fat, according to a study from the University of Chicago.