Plastic straws have grabbed news headlines in the past few weeks like never before. Similar to other plastic products that can't be recycled, those bendable, flexible straws that many of us grew up using have become synonymous with waste.
In an effort to cut down on environmental pollution, big companies like Starbucks, Marriott hotels, Bacardi Rum, Bon Appétit Management Company, Alaska Airlines, and American Airlines have announced they are starting to phase out their use of plastic straws, reports National Geographic. Seattle is the first U.S. city to outright ban plastic straws and many other major cities–like New York and Washington, D.C.–have proposed similar bans, as well.
The Pros & Cons To Getting Rid Of Plastic Straws
While the overall ban and phasing out period of plastic straws is largely being seen as a positive move for the planet, many groups have pointed out that drinking straw alternatives are important to find because many people, including several people with disabilities, rely on straws—not just for equal dining out options, but their health and well being.
"Going without straws can mean struggling through the physical motion of putting a drink to a mouth, or leaking liquid into the lungs, or choking," reports CNN.
Experts are still working on coming up with the best plastic straw alternative. The goal is to find a product that can do the job of a straw as efficiently as plastic, but for now, these options are worth considering.
Metal Staws & Other Reusable Straw Alternatives
Alternative plastic straws have pros and cons, but one thing is clear: if you like using straws or rely on them for your health, these metal straws and other reusable straws are totally worth buying.
SipWell Stainless Steel Drinking Straws ($6.89 for four)

Stainless Steel Drinking Straws
These reusable stainless steel drinking straws are durable, dishwasher safe, and made from a material that can withstand extreme hot and cold temperatures better than most alternatives. Each set of four straws comes with a mini cleaning brush, are long enough to fit 20-ounce tumblers, and won't leave a metal aftertaste in your mouth like some others. They're rust and scratch proof, so you can expect them to last a long time. While they were designed with a slight bend that makes drinking easier, you have to understand their limitations: you aren't going to be able to manipulate them any further so make sure you don't need a more flexible design.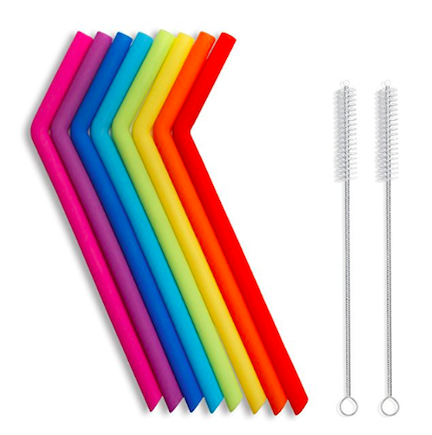 Hiware Reusable Silicone Drinking Straws ($8.99 for eight)
Colorful Silicone Drinking Straws
These BPA-free silicone straws are a great value. You'll receive eight colorful straws for less than $10. Aside from the affordable price, these food-grade silicone straws stand out because they are wider and longer than most, and far more flexible than metal straws (assuming flexibility is important to you). You can clean these straws with their accompanying cleaning brushes or in the dishwasher. Just remember you can't place silicone straws in the microwave.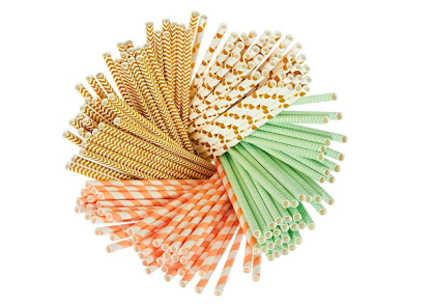 Juvale Paper Straws ($13.99 for a 160 Pack)
Paper Straws
These biodegradable paper straws come 160 in a pack and were even designed with fun colors and prints. This makes them a great option for parties, as well as everyday use. They're made with food-grade materials and soy-based dye on eco-friendly paper and are perfect for cold drinks. It's important to remember that they won't hold up in hot beverages, though, so these aren't the ideal straws if you plan on using them in your coffee.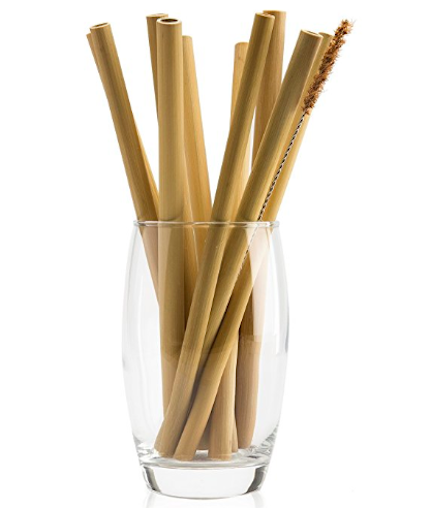 Natural Neo Organic Bamboo Straws With Coconut Fiber Brush ($11.87 for a set of 10)

Organic Bamboo Straws
Organic bamboo is a natural, sustainable material that doesn't contain dyes, inks, chemicals, or toxins. These plant-based drinking straws are a bit more expensive than other alternatives, but they will completely put your mind at ease when it comes to drinking from a safe, natural source that won't pollute the environment or mess with your health. The nice thing about these reusable straws is that they are all eight inches tall but come in three different diameter sizes to fit a slew of drinks. They even come with a cleaning brush and their own travel-friendly bag.
SheFinds receives commissions for purchases made through the links in this post.