Rosie Huntington-Whitely is best known for her modeling, of course, as a Victoria's Secret Angel. If you've ever traveled to England, you've seen her face all over the place, on billboards and magazine covers. The British model turned actress also replaced Megan Fox as the lead female role in Transformers: Dark of the Moon.
Among her overall stunning great looks, her full pouted lips are often a popular topic of discussion. She's an icon who is constantly photographed because of her impeccable style and flawless makeup.
And now, women who idolize Huntington-Whiteley's drop-dead gorgeous makeup looks can recreate them with a little help from her new makeup line, Rosie for Autograph. Huntington-Whiteley has joined the ranks of high-profile models-turned-beauty-entrepreneurs like Miranda Kerr, Cindy Crawford, Lindsay Ellingson, and Iman.
But there's more–it seems Huntington-Whiteley is entering Gwyneth Paltrow territory, as she recently launched a new venture called Rose Inc. that vows to provide readers with "insider" beauty content.
Rose Inc. & Rosie For Autograph by Rosie Huntington-Whiteley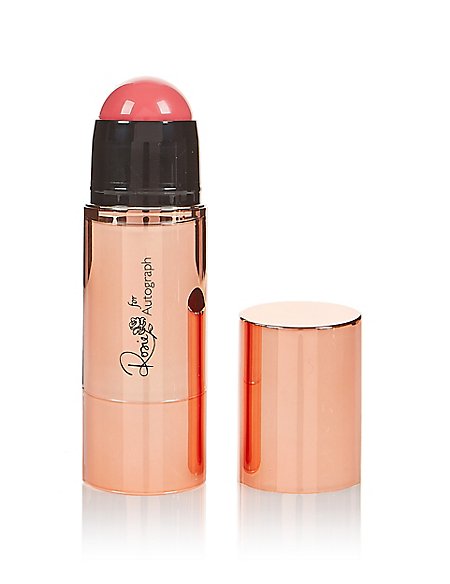 Rose For Autograph
Rosie Huntington-Whiteley's entered the beauty industry with Rosie for Autograph, a makeup collection she launched with British department store Marks & Spencer. The line features everything from lipsticks and concealer to perfume and even lingerie and pajamas. Unfortunately, it's not available in the U.S. yet but if the popularity of Autograph Makeup is any indication, Rosie is well on her way to achieving Paltrow-like status in the online beauty universe.
Rose Inc.--Her Newest Beauty Venture
When you spend years and years in makeup artists' chairs, picking up the best tricks of the trade and having access to every skincare, cosmetic, hair, and nail product on the planet, you may find yourself — feeling a tad inspired. That might be why Huntington-Whiteley is so eager to share all of her insider beauty knowledge.
The model turned businesswoman announced the launch of Rose Inc. on her Instagram page with an inaugural interview with makeup artist Katie Jane Hughes. Since its conception, Huntington-Whiteley has been hard at work adding some pretty great content to the site. On any given day you can find out exactly which products she used while attending an event. Loved her lip color at the CFDA awards? Thanks to Rose Inc. we now all know that gorgeous hue was a combo of Nars Powermatte Lip Pigment in American Woman with a touch of Jillian Dempsey Cheek Tint in Poppy to top it off--and that's just the beginning!
All lifestyle brands have a goal or purpose and Rose Inc. is no exception. According to the new brand's statement:
"Rose Inc. is a daily editorial destination for all things beauty: makeup tutorials, revealing interviews, visual eye candy, and products tried, tested, and approved by Rosie Huntington-Whiteley herself. Featuring original photography and insights from the industry's top experts, the site is honest, and real—just like a page out of your best friend's notebook. While Rosie will share exclusive glimpses into her own beauty routine and glamorous nights out, she's truly interested in creating a community that is welcoming, diverse, inclusive, and endlessly inspiring."
"In Huntington-Whiteley's own words, she sees the space as being 'a collaboration of my favorite artists, of my favorite influencers, of my favorite bloggers, of my favorite tastemakers. Bringing everybody's aesthetic together and celebrating it and learning from it and shopping from it and being creative from it and being inspired by it. That's what I hope for.'"
You Can Shop Rosie's Favorite Products On Rose Inc.
We already know Rose Inc. will deliver tips and interviews from Rosie herself, as well as her BFF's in the business, but users will be able to shop Rosie's favorite products on the site, as well.
Judging by the products she recommends on her shopping page, you can expect only the cream of the crop. Examples of some of her faves include Laura Mercier Créme Cheek Color, Marc Jacobs Beauty Glow Stick, and Hair by Sam McKnight.
For more info on beauty launches, check out Beauty Launches That Need To Be On Your Radar This Month and all of the details about Gwen Stefani's very own makeup line on SHEFinds.com.
[Photos: Splash/Marks & Spencer]