Breakfast smoothies are the answer to all of your busy morning problems. You know you shouldn't leave the house in the morning without properly fueling yourself with a healthy breakfast, but you might not have time to scramble eggs or prepare an elaborate hot oatmeal breakfast with toppings. You can whip up a nutritious smoothie the night before and make enough to last you two breakfasts–there are few meals come close to being that convenient!
Now here comes the exciting part: figuring out which ingredients to add to your breakfast shake to get the most health benefits from your cold beverage. This one smoothie you should have right after you wake up for a better day is packed with antioxidants and anti-inflammatory benefits thanks to one key ingredient.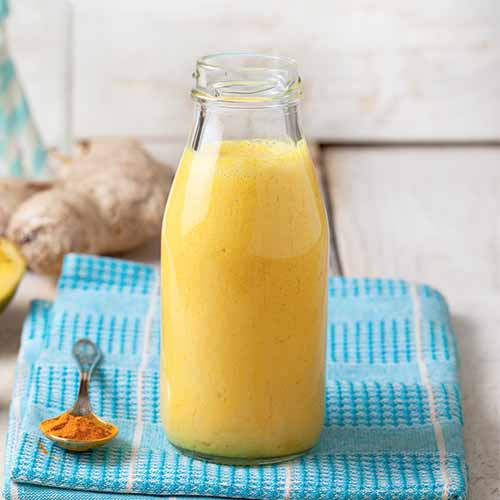 Turmeric Smoothies

You can easily call turmeric the most popular spice of the day, but it's far more than just a health fad. This deep yellow, slightly bitter spice derived from the turmeric plant is used in curry, as well as some mustards and butters, and it's a common ingredient you'll find over and over again in Southeast Asian and Indian cuisine.

Thankfully, we're finding other ways to incorporate this incredibly healthy anti-inflammatory spice into every meal — including breakfast smoothies. A sprinkle or two of turmeric in your shake delivers a potent compound called curcumin that goes to work relieving your body of inflammation and fighting illnesses and disease.
The Benefits Of Curcumin

Inflammation is the body's way of responding to a bacteria or trauma by flooding that area with white blood cells in order to help you heal. But chronic inflammation, which can be caused by a diet of too many processed foods and sugar (as well as stress, smoking, and other unhealthy lifestyle choices) is not beneficial to the body and can actually lead to conditions like heart disease, diabetes, and cancer. Turmeric's curcumin content helps fight off excess inflammation at the molecular level — similar to prescription drugs but without any harmful side effects, according to Healthline.

Turmeric is also an ingredient that is rich in antioxidants and can fight free radicals in the body that damage your cells. There is even research that shows a link between turmeric and a lower risk of Alzheimer's disease.

With all of these benefits, it's difficult to make a case against using turmeric in your smoothie recipes.
Love the sweet taste of pineapple? Try this pineapple turmeric smoothie, which calls for five simple ingredients and takes just five minutes to whip up. Here are the ingredients you'll need:
Ingredients:
Skim milk
Pineapple
Ground turmeric
Ice cubes
Ground black pepper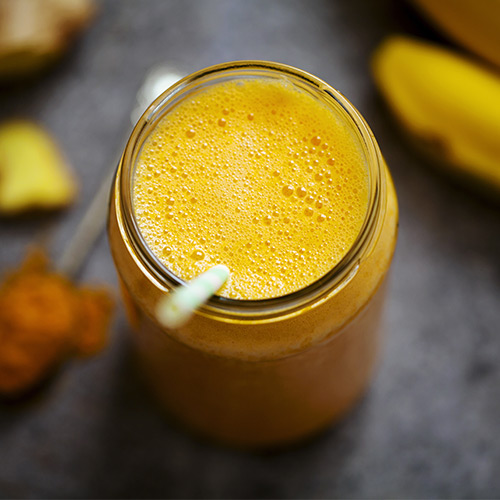 Ginger Turmeric Carrot Smoothie
This ginger turmeric carrot smoothie adds vitamin-rich carrots and the antioxidant benefits of ginger, which is also great for digestion and maintaining gut health. You'll need eight ingredients to bring this bittersweet and super healthy concoction to life.
Ingredients:
Grated ginger
Turmeric
Banana
Butternut squash
Mango
Almond milk
Carrot juice
Orange juice
For more smoothie tips, check out 5 Anti-Inflammatory Smoothie Recipes You Should Try For A Faster Metabolism and 5 Bloat-Fighting Smoothie Recipes You Should Make This Week For A Flat Stomach on SHEFinds.com.
Photos: Shutterstock