It's no secret that Victoria Beckham is a busy woman. The fashion designer is always jet-setting around the world to promote her brand and working hard to create new collections for her Victoria Beckham fashion brand. Now, the star has another exciting project in the works…
Splash
Beckham is recruiting her former Spice Girls bandmates for an unexpected reunion.
Splash
The band is getting back together to film a movie! According to The Hollywood Reporter, all five members of the Spice Girls, which includes Beckham (Posh), Melanie Brown (Scary), Emma Bunton (Baby), Melanie Chisholm (Sporty), and Geri Halliwell (Ginger), are teaming up to film an animated Spice Girls movie with Paramount Animation.
Splash
Details on the film are still limited, but it has been revealed that the animated film will be produced by Simon Fuller with Karen McCullah and Kiwi Smith writing the screenplay.
The film will also feature the 90s pop group's hit songs as well as some new songs that will be recorded for the movie.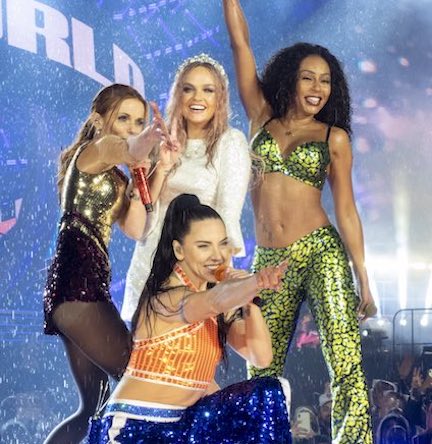 Splash
This news comes after the band kicked off their reunion tour, which Beckham is not participating in. Brown, Bunton, Chisholm, and Halliwell have embarked on a European tour, which started on May 24 in Dublin, Ireland.
Beckham revealed that she wouldn't be joining her bandmates when the tour was announced back in November 2018 via social media.
"Today marks a special day for the girls as they announce the first tour dates since we performed together in 2012," Beckham wrote on Instagram. "I won't be joining my girls on stage again but being in the Spice Girls was a hugely important part of my life and I wish them so much love and fun as they go back on tour next year. I know they will put on an amazing show and the fantastic fans past and present are going to have a wonderful time! X vb."
Are you surprised to hear that the Spice Girls are making a movie? Did you expect Victoria to reunite with Mel B., Emma, Mel C., and Geri? Let us know your thoughts in the comments below!