Spring is almost here, and it's bringing a ton of exciting, new wedding trends with it! The change in season typically marks the introduction of warmer colors, outdoor ceremonies and gorgeous floral arrangements. Now, experts are expecting to see couples experiment with color and patterns, while also venturing out of the norm when it comes to their makeup, bridesmaids' dresses, tuxedos, and food.
And, according to Beth Bernstein of SQN Events in Chicago, it's all being done to honor those in attendance. "Couples today want their guests to really notice the effort gone into planning the wedding. It's not just about personalizing the wedding to the couple," she explains. "It's about who their guests are and what they mean to them…People want a lot of details, and are spending a lot on their guests' experience."
Ready to see the wedding trends that will be sweeping the nation this spring? Here are some the ones that every couple is excited to incorporate into their ceremony:
Sheer Dress Details
Brides are gravitating towards sheer details when it comes to their wedding dress. Expect to see a lot of illusion necklines, airy fabrics and romantic details this spring. Not only is this trend super stylish, but it's also extremely fitting for the warmer weather, too!
GET IT NOW: BHLDN Cassia Gown ($1,150)
Taller Tiers
Everyone knows that the cake is the best part of the reception, and couples aren't playing around with their cakes. Taller tiers are the cake trend everyone is following this spring. Couples are even opting for less traditional cakes and choosing naked cakes, fondant covered cakes and a calligraphy-style phrase for their cake topper.
Food Stations
Gone are the days of choosing between chicken, salmon or steak. Now, couples are into serving their entrées buffet style at customized, interactive food stations. They're even opting for family style serving to create a more intimate experience for their guests. Expect to see a lot of taco, pizza, sushi and tapas bars at the next wedding you're invited to!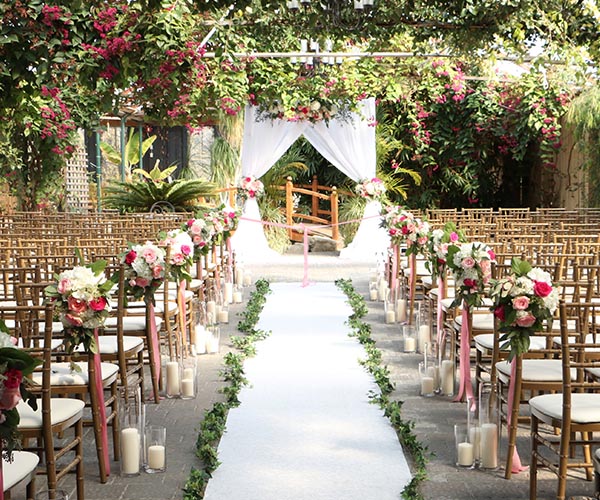 Overflowing Blooms & Garlands
Green ivy garlands, lemon leaves or seeded eucalyptus will add a fresh look your ceremony and reception. You can even opt for flowering branches, like cherry blossoms or forsythia, to add a romantic charm. Don't forget about spring-favorite flowers like sweet peas, lilacs, hyacinths, tulips and peonies! Choosing in-season flowers ensures that you'll be given the freshest flowers, which means that you'll get the most bang for your buck.
Ombré Lips
Brides aren't just making a statement with their dress this spring. They'll also be doing so with their lipstick. Ombré lips are going to be a big trend because it defines and illuminates the lips for a romantic look.
Watercolor Details
From the invites, to the place cards, couples are choosing beautiful pastel watercolor palettes this season. These brushstroke designs make every detail unique and add a romantic element with its multiple hues.
GET IT NOW: Blue Water Color Wedding Invitation ($25)
Blue Tuxedos
Traditional black tuxedos are out, and pale blue tuxedos are in! It's a fun way to celebrate the change in season, while also staying on trend with a pastel hue.
Garden Weddings
There's no better place to celebrate spring and the warm weather than outside. Couples will be hosting their special day in picturesque gardens filled with gorgeous floral arrangements. To make the ceremony and reception even dreamier, couples are bringing indoor elements like chandeliers to create a beautiful evening for their guests.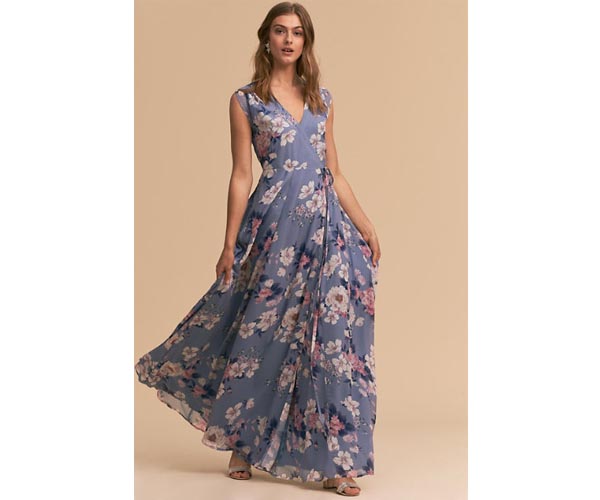 Floral Dresses
Bridesmaids have fun dresses to choose from, too! Bridal parties are expected to be decked out in gorgeous floral dresses, like this one from BHLDN. Trust us, this is going to be the hottest wedding trend of the season.
GET IT NOW: BHLDN Sashay Dress ($140)
Punny Favors
Couples are sending their loved ones off with a punny-yet-practical favor from their wedding. Make it yours by picking a favor that speaks to your wedding theme.
GET IT NOW: Meant to Bee Wedding Favor Tag ($2.50)
Ponytails & Buns For The Bride
This spring, brides will be revisiting classic hair trends for their big day with sleek ponytails and ballerina buns. Pulling back their hair allows for their facial features to shine through and create a timeless, elegant look.
Looking for more tips and tricks for your spring wedding? Check out our Ultimate 30-Day Wedding Checklist at SheFinds.com!
And, don't forget to follow us on Pinterest for even more tips, tricks and ideas for your big day!
[Photos: Shutterstock]
SheFinds receives commissions for purchases made through the links in this post.