Spring is right around the corner–the first day of spring is just 10 days away, after all! Raise your hand if you're ready to kiss this long and treacherous winter goodbye–we know we are! When warm weather finally starts creeping in, one of our favorite accessories to grab for is a pair of sunglasses. For this spring, a new sunglass trend is taking over.
Let's be honest, no matter what season it is, we love wearing our sunglasses. However, when it's finally sunny outside again, our sunnies are our best friend. Most women will be sporting a pair of sunglasses 24/7 in the spring and summer months.
This season, the hottest sunglasses have big lenses and minimal details. They're subtle in color and fairly plain in the frame, but their exaggerated shape will definitely turn some heads. Although they may look a little simple at first glance, these are not basic.
Cat-eye sunglasses are back for spring, but with a twist. These are not your average cat-eye sunnies, these are bigger and better.
As for the spring colors that are so in–the hues are light and bright. The most common trendy sunglass color for the spring is millennial pink. From dusky pink frames to fluorescent pink lenses, the color is hot this season. And of course, tortoise pattern is still in again this season. You can never go wrong with tortoise glasses–they're a classic.
Shop the sunglasses that everyone is already buying for spring, below. You won't want to be the only one on the beach without these fashionable sunglasses.
BP. 59mm Metal Tip Round Sunglasses ($14)
About the product: Bare metal pieces at the ends of the temples add sleek, minimalist style to these rounded sunnies.
Promising review: "Awesome, love them, great size, lightweight."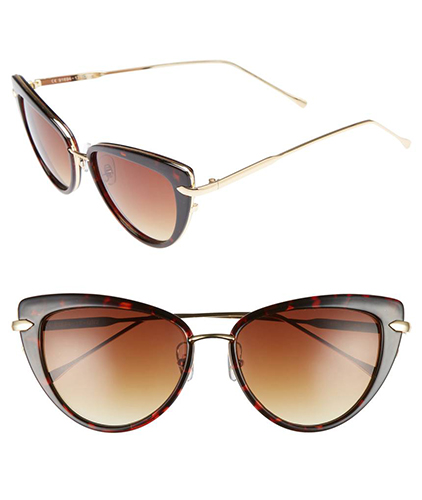 Glance Eyewear 64mm Exaggerated Cat Eye Sunglasses ($14)
Slim, shining metal accents kick up the gleam on retro-chic shades fashioned in an exaggerated cat-eye silhouette.

BP. BP 55mm Mirrored Cat Eye Sunglasses ($14)
About the product: Be the cool girl in these chunky cat-eyes featuring coolly gradated mirrored lenses.
$14 55mm Oval Sunglasses ($14)
About the product: Hand-polished sunglasses with streamlined cat-eye curves offer instant, go-anywhere glamour.
SheFinds receives commissions for purchases made through the links in this post.