With humid, hot weather looming just around the corner, lots of us are preparing to go to battle with our dry hair, which only seems to become more brittle and less luminous during the summer months. Even if dry hair is in your genes, there's a good chance you're committing a few hair sins that are contributing to your problem. We spoke with hair experts, who let us in on the 6 worst things you can do for dry hair. Quit these habits now for more lustrous and hydrated hair later.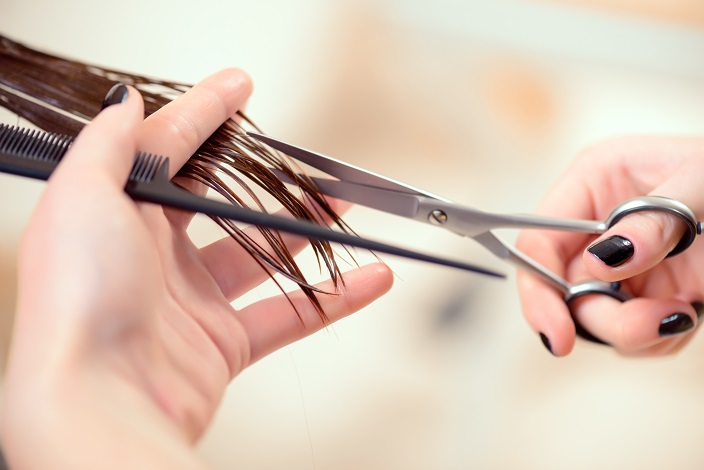 You aren't trimming your hair enough.
Frequent hair cuts are important regardless of hair type because they help eliminate dry, split ends. But they're especially essential if you have naturally dry hair, says Julie Pichel, a cosmetologist and bridal hair and makeup artist at Blushing Brides Boston. You should make it a point of visiting the salon every six weeks. "When trying to grow hair longer, some women skip haircuts because a haircut seems to work against the goal," Pichel says. "The truth is that unruly, untrimmed hair is dying, dry, and will continue to shrivel up; your hair will stay the same length and your ends will look like straw."
You're washing your hair with sulfates.
If you dye or highlight your hair, you already know how sulfates can strip your locks of moisture and fade your color fast. Well, shampoos and conditioners with sulfates are also the absolute worst for dry hair. "Opting for sulfate-free products will help keep some moisture in your hair, and brands like Moroccan Oil and Aquage offer a great line of super-moisturizing products," Pichel says.

Other products to avoid if you have dry hair include salt sprays and spray-in hair lighteners that contain no moisturizer whatsoever, says Sam DeAngelo, cosmetologist and bridal hair stylist at Blushing Brides Boston.
You're not protecting your hair before using heat tools.
If you frequently use blow dryers, curling wands or straightening irons, heat protectants shouldn't be thought of as optional products, particularly if you have dry hair--they're crucial in maintaining the health of your hair. "Always preempt the heat with a spray-on heat protector," Pichel says. "Not only do these products protect your hair from heat-related damage, but they help the hair dry faster--reducing styling time--and also promote a healthy shine."
You're addicted to silicone-filled products.
Serums may seem like the solution to your dry hair dilemma, but Eden Di Bianco, a licensed cosmetologist who specializes in cruelty-free beauty services in New York City, says the shine they deliver may be more smoke and mirrors than you think. "Silicones (-cones) are used in a multitude of beauty products from makeup primers to foundations and hair care products because they are non water soluble and highly effective at masking a multitude of issues," Di Bianco says. "On hair, silicone polymers lock out frizz causing moisture by coating and smoothing the cuticle of the hair shaft, which is actually made up of tiny overlapping scales that become raised and can make hair look dull and feel rough. The problem is that since -cones are non water soluble, they build up on the hair and block vital moisture from conditioners and oils from reaching the hair shaft, making dry hair even drier with long term use."

To head off dryness and frizz before styling, Di Bianco says women with dry hair should avoid harsh detergents in shampoos and silicones in conditioners, opting for hydrating formulas instead. "A sleeper hit I recently discovered is the Coconut Straightening shampoo and conditioner from Acure, which is available at Target," she says.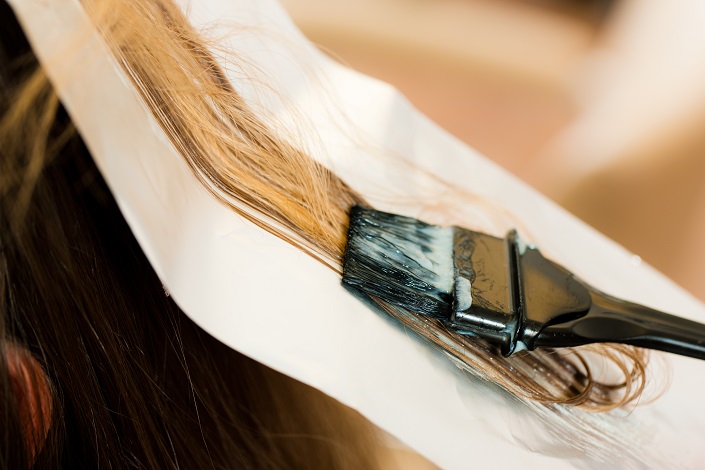 You're over-processing your hair.
It's not that you can't highlight your hair if it's on the dry side, it's that you should consider coloring options that are as gentle as possible and allow for more time in between salon appointments. Celebrity hair colorist Michele Fury of Prive by Laurent D Salon says balayage is the ideal option for anyone with dry hair. "Balayage, a Parisian hair technique, creates a softer root that allows the ends of hair to pop while eliminating dryness," Fury says. "Similar to spending a week on the beach, this hair color method allows you to need less overall maintenance and keep the integrity of your hair. Due to its non-drying effect, balayage coloring can be done more often on new growth and will not compromise hair over time."
You're using boxed hair dye.
They're quick, cheap and (sometimes) work like a charm when you need to cover up dark roots in a flash. But relying on boxed hair dye instead of consulting a professional about your color needs will likely result in drier, more damaged hair.