Every bride wants to look and feel her best in her wedding dress, so it's no surprise that many start a workout regime in the months leading up to the main event. You can maximize your workout by finding a workout tailored to your bridal gown. We asked two fitness experts for their best tips to help brides get into great shape before the big day.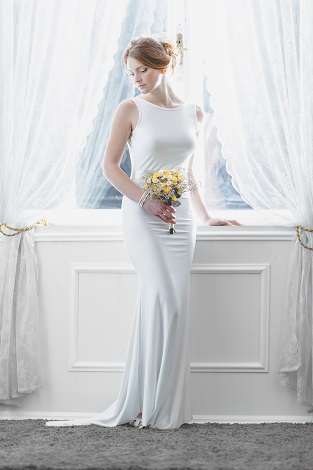 Sheath/Column
"I would recommend movements that will build and tone your shoulders, upper back and arms because that is the part of your shape that will likely be exposed the most," says Julie Rogers, head trainer at Orangetheory Fitness in Rosslyn, VA. "A great set would be to combine lateral raises and front raises. You can do 8 to 10 reps of each movement for three rounds to get a great toning in those arms."

Lateral Raises: Stand straight with your arms at your sides and dumbbells in your hands. Keep your core stationary as you lift the dumbbells to your side with a slight bend on the elbow and the hands slightly tilted forward until your arms are parallel to the floor. Bring your arms back down in a controlled manner and repeat.

Front Raises: Start in the same position as the lateral raises. Lift your left arm to the front with a slight bend in the elbow and your palm facing down until your arm is parallel to the floor. Repeat on the other side.
Trumpet/Mermaid
This dress is really going to accentuate the hips and your back side. "A movement I really love right now is the single-leg deadlift," says Rogers. "This movement will work your hamstrings and glutes, while you stabilize with your core and glutes! It is a really fun balance challenge as well."

Single-leg deadlift: Stand on one leg on the same side you hold a dumbbell. Keep that knee slightly bent as you bend at the hip, extending your other leg behind you. Continue lowering the dumbbell until you reach the floor and then return in a controlled manner to an upright position. Repeat on both sides.
Strapless
Brides wearing this popular style will be showing off the upper body. Rogers suggests starting with a chest fly. "Strengthening the chest and building muscle will give you a perkier bosom when you don't have the strap support. From there, a great dynamic movement is a bicep curl to a shoulder press to create toning in your arms and shoulders, while leaning out the area around your collar bone."

Chest Fly: Lie flat on a bench with a dumbbell in each hand, held in front of you with fully extended (but not locked) elbows. Lower your arms wide to your sides until you feel a stretch in your chest. Squeeze your chest muscles and breathe out as you return your arms to the starting position.
Bicep Curl: Hold a dumbbell in each hand with your palms turned out. Keep your upper arms still as you contract your biceps while curling the dumbbells to your shoulders.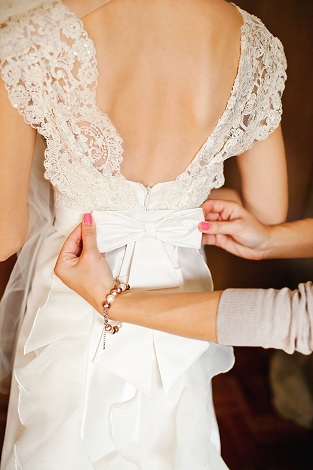 Backless
When it comes to this sexy look, a reverse fly is a must, says Rogers. "Really focus on squeezing in between your shoulder blades as you lift back like you are trying to crush a tennis ball. After a couple of weeks of incorporating this movement, check out your upper back in a mirror, and you'll be impressed!"

Reverse Fly: Lie face down on an incline bench with a dumbbell in each hand, palms facing each other. Keep a slight bend in the elbows as you move the dumbbells out and away from each other while squeezing your shoulder blades together. Return to the starting position and repeat.
Ballgown
This dress is very forgiving to the lower body since the waist down is covered up with flowing material, so it's best to focus on the arms, upper body and waist, says Stacy Berman, founder of Stacy's Bootcamp in NYC. Pushups, bicep curls and sit ups are all great moves. You can combine them with:

Rear delt raises: Hold a dumbbell in each hand. Contract your core. Stand with feet about hip-width apart, and hinge forward at the waist so the upper body is parallel to the floor and arms are hanging down. Keep the elbows straight and lift the arms up and out to the side so they arm parallel to the ground.  Slowly come back to starting position.

Plank: Starting at the top of a pushup position, bend your elbows and lower yourself down until you can shift your weight from your hands to your forearms. Your body should form a straight line. Brace your abs and hold for 60 seconds.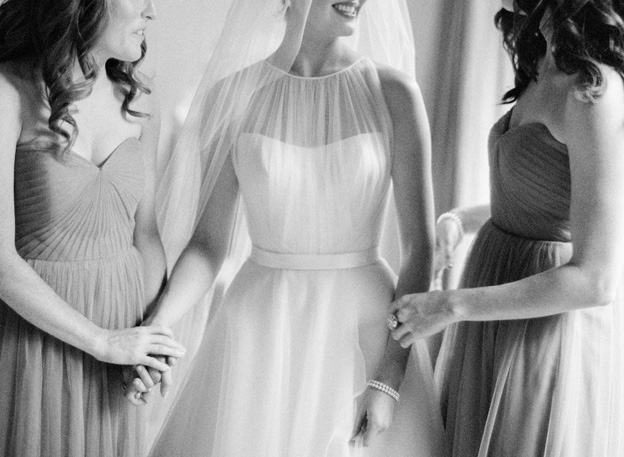 A-Line
Although the hips and thighs are not exactly on display here, the A-line dress has a silhouette that sits well on a less curvy lower body, says Berman. With that in mind, focus on the arms, shoulders, lower body (hips, thighs, legs) with squats, side to side lunges, bicep curls, shoulder press and lateral raises. Other moves include:

Shoulder press: Hold a dumbbell in each hand. Stand with feet about hip-width apart. Bend your elbows and raise your upper arms to shoulder height so the dumbbells are at ear level. Contract your core. Push the dumbbells up and in until the ends of the dumbbells touch lightly, directly over your head, and then lower the dumbbells back to ear level.

Lateral raises: Hold a dumbbell in each hand, arms resting at the side body. Stand with feet about hip-width apart. Contract your core. Keep the elbows straight and raise the arms until they are parallel to the ground. Slowly come back to starting position.

[Photo: Ryan Ray Photo]