In a professional world, you'd think celebrities would be less catty! Some of them take competition a little too far and they will do whatever it takes to get to the top. Check out the most iconic celebrity beef of all time!
[Photos: Splash News]
Katy Perry vs. Taylor Swift: Taylor and Katy started off as friends. However, something went wrong between the two artists around 2012. Their beef can be attributed to many things, like Katy dating Taylor's ex John Mayer. Taylor told Rolling Stone in 2014, "For years, I was never sure if we were friends or not. She would come up to me at awards shows and say something and walk away, and I would think,'Are we friends, or did she just give me the harshest insult of my life?'"
Taylor also alludes in the interview that Katy tried ruining her Red Tour by stealing backup dancers. The release of Taylor's song "bad Blood" only added fuel to the fire as it is widely assumed the song is about this feud.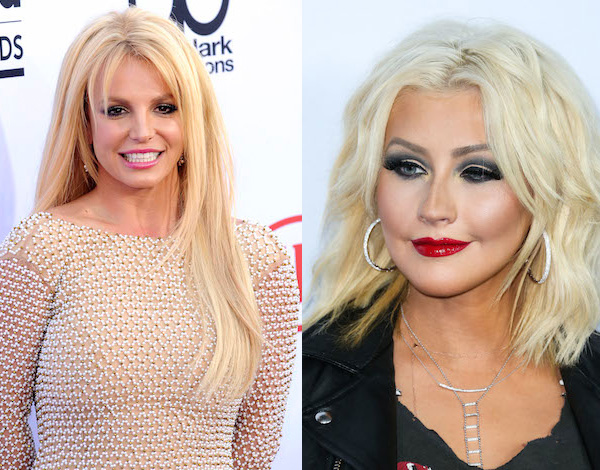 Britney Spears vs. Christina Aguilera: The two pop stars had their rise to fame around the same time and were always fighting for the same fans. They were the girl versions of 'N Sync and The Backstreet Boys, you coul never like both of them.
After Brtiney Spears and Justin Timberlake broke up, Christina Aguilera went on tour with JT. Rumors started that Christina and Justin hooked up on tour, but nothing was ever confirmed. Things started to heat up at the 2003 MTV VMAs when Madonna and Britney kissed on stage. Although Christina also kissed Madonna, the TV cameras focused on Justin Timberlake's reaction to the Madonna-Britney liplock instead of Christina. The next day, the tabloids claimed Christina was angry and jealous that her kiss with Madonna took a backseat while everyone focused on Britney. In various interviews, Christina criticized Britney for trying to portray an innocent image while at the same time using her sex appeal and sexuality to increase her popularity.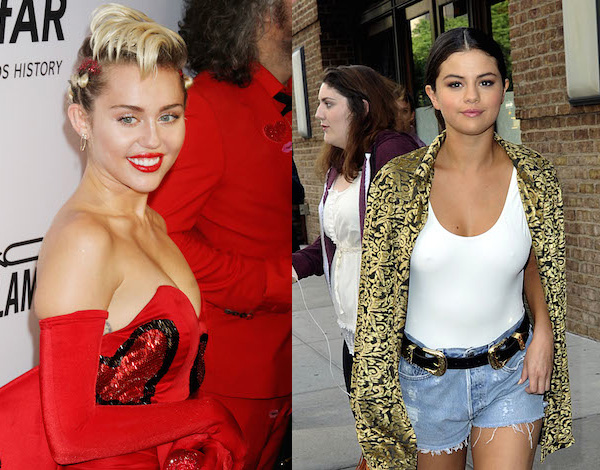 Miley Cyrus vs. Selena Gomez: It all started shortly after Miley and Nick Jonas broke up in 2008. Selena and Nick reportedly started dating only a few months later. Things got serious when Selena told Seventeen magazine she thought her and Nick would get married, granted she was only 15 at the time.
Then, Miley and her friend Mandy made a spoof of Demi and Selena's YouTube video that was not very nice.
Adding more fuel to the fire, Miley was spotted out with Justin Bieber after he broke up with Selena! Miley and the Biebz even did a collab together.
There been passive aggressive Tweets between the two over the years and Miley even held up a cut out of Selena's head while singing "FU." Yikes. It is safe to say the two are not friends.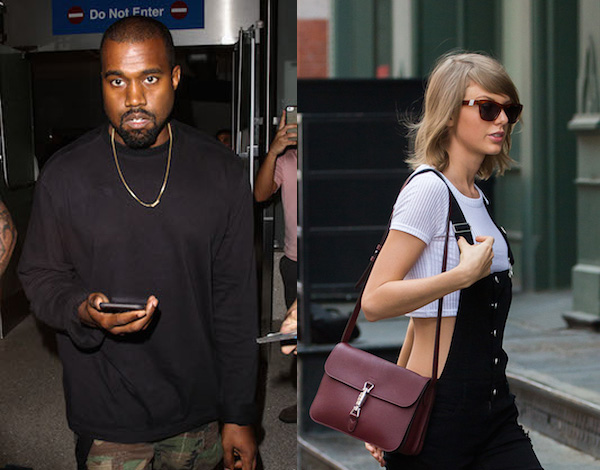 Taylor Swift vs. Kanye West: In 2009, Taylor Swift won the VMA for "Best Female Video." However, Kanye West didn't agree with the results. He interrupted Taylor as she was accepting her award and said, "Yo Taylor. I'm really happy for you, Imma let you finish, but Beyonce had one of the best videos of all time." However, Kanye did reach out to Taylor years later and asked to get dinner. The two were seen in February 2015 leaving the Spotted Pig in New York. Apparently, they made a deal to do a collaboration together very soon!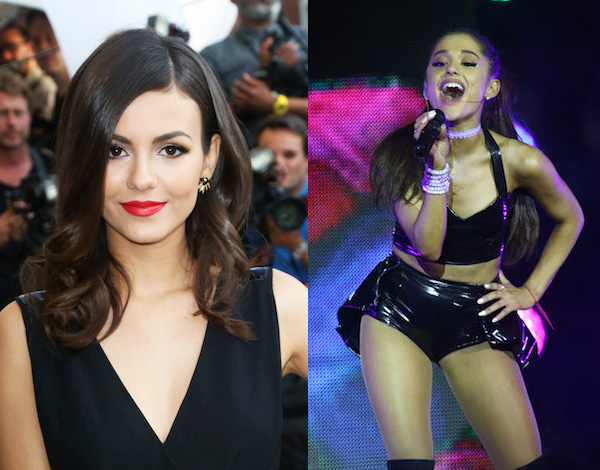 Victoria Justice vs. Ariana Grande: After Victorious ended in 2013, things with Ariana Grande and Victoria Justice got heated. Ariana had an interview with Seventeen and stated, "I was so unhappy" working on Victorious because she worked with "someone who told me they'd never like me." She later responded to a comment at her Last.FM concert that the reason why Victorious ended was because of the show Sam and Cat (which she starred on). Arianna commented, "Sweetheart the only reason Victorious ended is because one girl didn't want to do it. She chose to do a solo tour instead of a cast tour."
Was she talking about Victoria? Most likely! Victoria responded with a Tweet that read, "Some people would throw some1 that they consider a friend under the bus just 2 make themselves look good. #StopBeingAPhony #IfTheyOnlyKnew." Ouch!