Add a few great drinks to your daily regimen and you could actually benefit from greater weight and fat loss benefits. Choosing an anti-inflammatory beverage helps balance gut bacteria and reduce inflammation that causes obesity and diseases like cardiovascular disease and diabetes.
This is the one anti-inflammatory drink that basically shrinks your waistline, according to nutritionists.
Shutterstock
Whipping up a healthy smoothie is a smart idea when you're short on time and searching for ways to get important nutrients like protein, vitamins, minerals, and healthy fats without spending hours cooking.
Shutterstock
Despite how healthy they can be if you use the right ingredients, it's also far too easy to make a smoothie that's filled with sugar. Relying on fruit juice and too many fruits or sweet additives, without adding in veggies and protein sources, can tip your smoothie too far in the direction of a dessert.

But the latest anti-inflammatory drinks called "functional smoothies" ensure you are enjoying a delicious beverage that's also extremely healthy and great for weight loss.
Shutterstock
Instead of just adding blueberries and milk to your blender and calling it a smoothie, a functional smoothie incorporates high fiber and protein ingredients, as well as something called adaptogens to address a number of health concerns you have, including weight gain.
Shutterstock
Adaptogens are plants or herbs that support your adrenal system. These special and unique ingredients can also help balance your hormones and relieve stress, while basically adapting to the changing needs of your body. Many experts swear by adaptogens as herbal pharmaceuticals, while others say there simply isn't enough proof that they work.

Either way, smoothies that contain adaptogens and are considered "functional smoothies" are on the rise.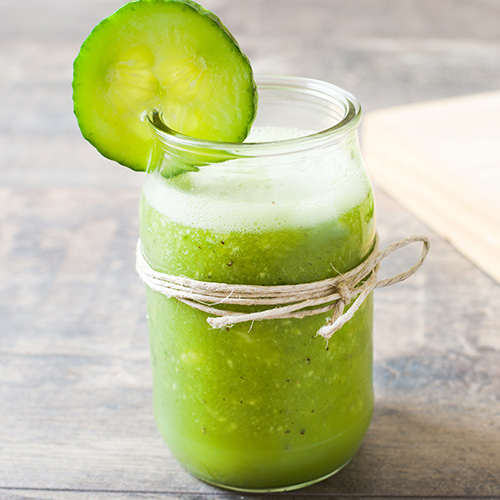 Shutterstock
Some example of adaptogens you can add to smoothies include ginseng, which is linked with lower blood sugar levels (and ideal for weight loss), ashwhaganda for stress relief, moringa oleifera for lower blood sugar, and broccoli sprout powder, which contains high amounts of fiber and can fill you up faster and keep your digestive system in tip-top condition.
Shutterstock
The next time you want to whip up a smoothie for weight and fat loss, try making it more functional with added adaptogens that can increase weight loss benefits and reduce stress levels.