They say breakfast is the most important meal of the day and that's especially true if you're looking to lose weight. Starting off your day with a healthy, nutrient-rich breakfast not only boosts your metabolism but also sets the tone for the rest of the day's eating habits.
One of the best ways to stay on track towards your weight loss goals is to start your day with a breakfast full of anti-inflammatory berries.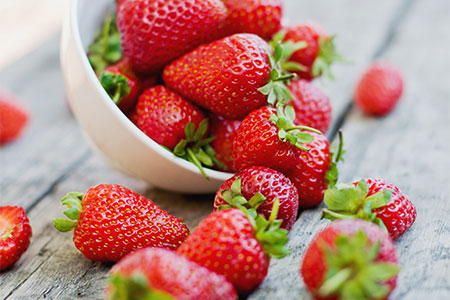 Shutterstock
READ MORE: 4 Anti-Inflammatory Foods Nutritionists Say You Should Eat To Burn Calories And Speed Up Your Metabolism
Berries are a powerful metabolism booster due to their high-fiber content and complex carbohydrates. Because your body doesn't digest all the fiber content, it ends up burning calories. Whether you prefer strawberries, blackberries, or blueberries, all of the juicy fruits come packed with antioxidant benefits to fight inflammation and help the body function at its best.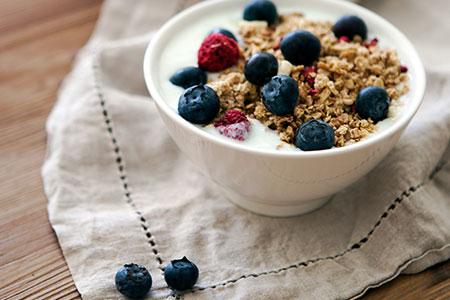 Shutterstock
The anti-inflammatory wonder is easy to incorporate into your morning routine, no matter how much time you have to spend. Blend some fat-burning strawberries, spinach, juice, and ice together for a smoothie to take on the go, or top a bowl of greek yogurt and granola with some berries for a parfait.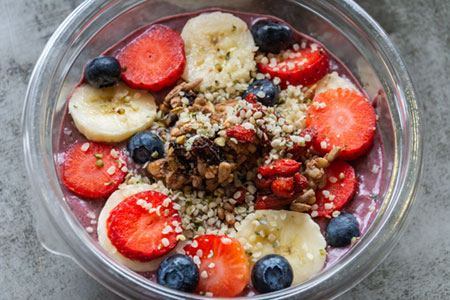 READ MORE: The One Fat-Burning Smoothie You Should Have Right After You Wake Up For A Better Day
If you're looking to really rev up your weight loss, opt for an antioxidant-rich, nutrient-packed acai bowl. Gather up the following ingredients and get your blend on for a tropical bowl of your own — and say goodbye to belly fat!

What you'll need:
- 1 cup of apple juice
- 1 large banana sliced
- 1 1/2 cups of frozen berries
- 1/2 cup vanilla greek yogurt
- 1 tablespoon honey
- 1 frozen packet of acai berry puree
- assorted toppings: sliced almonds, berries, shredded coconut, granola, chia seeds, etc.