Everyone loses weight differently and for some, it can be a real struggle to get rid of those last few pounds of belly fat. If you feel like your fat loss regimen could use a little boost, experts say that taking a daily supplement can help give your body the vitamins and minerals it needs to burn more calories. Now this is not the say that supplements will magically erase fat, but they'll definitely help, especially when you're eating right and exercise daily.
Not sure which supplements you should be taking? Anti-inflammatory supplements are great for weight loss and helping rid the body of inflammation, which is why dietitians and fitness experts agree that taking fish oil supplements make an excellent first step in burning belly fat.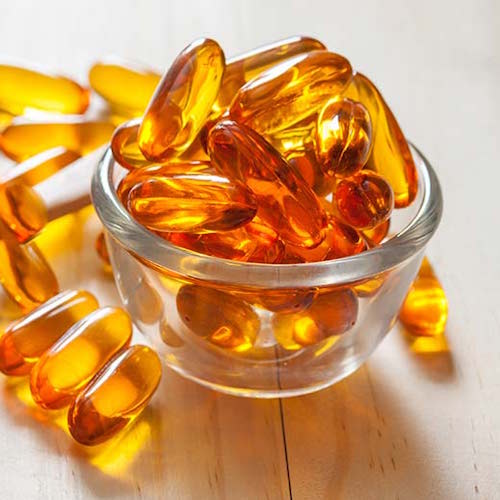 Shutterstock
Fish oil supplements are known for their anti-inflammatory properties and their role in promoting a healthy metabolism and body. In fact, it's been noted that these supplements can help reduce visceral fat by reducing inflammation in those with high belly fat.
"Likely due to these mechanisms, fish oil seems to have health-promoting and anti-abdominal obesity actions even when overall weight loss does not occur. That is basically as targeted as we can expect when it comes to oral supplements," according to the experts at Legion Athletics.
This is why it's always recommended to eat fatty fish like salmon when you're trying to lose weight—they're loaded with healthy omega-3 fatty acids!
Shutterstock
"Fish meat taken along with a balanced diet of fruits and vegetables can be effective in losing weight as it has less saturated fats as compared to other meats. But this study cannot be taken as final proof of fish oil affecting obesity. More research is required to see that if there is any direct impact of fish oil on obesity. Omega-3 fatty acids derived from fish oil are definitely beneficial. Vegetarians can add more almonds in their diet to derive these essentials fats," Dr. Rupali Datta, chief clinical nutritionist at Fortis-Escorts Hospital, explains.
Shutterstock
But if you're not too keen on eating fish Dr. Shikha Sharma, Wellness Expert and Founder of NutriHealth, says that taking supplements are still a great idea. "Fish oil in the form of pills may not be as beneficial as when you consume oily fish. Supplements may not be able to replace the nutritional value. It is better to include more oily fish in your diet to reap the benefits of Omega-3 fatty acids," she explains.
Nature's Bounty Fish Oil 1,000 mg ($10.82)
SheFinds receives commissions for purchases made through the links in this post.