The best way to shrink your waistline at any age is to eat a healthy diet that consists of a variety of veggies, proteins, healthy fats, and unrefined carbs. Cutting processed foods and excess sugar out of your life is a great idea, as is incorporating cardio and strength training into your routine and getting more sleep and relaxation to combat stress.
And if you're curious about which supplements can help, it doesn't get much better than this one. This is the one anti-inflammatory vitamin you should start taking before breakfast to shrink your waistline over 40.
Shutterstock
Alpha-Lipoic Acid

A fatty acid that ensures your metabolism functions well, alpha-lipoic acid is the supplement you may not taking that might just prove to be a game changer when it comes to your weight loss goals.

According to Very Well Health: "Alpha-lipoic acid is a compound found naturally inside every cell of the human body. Its primary role is to convert blood sugar (glucose) into energy using oxygen, a process referred to as aerobic metabolism."
Shutterstock
In recent years, studies have shown modest, but real, weight loss benefits when test subjects were given alpha-lipoid acid versus a placebo.

"A 2018 review of studies from the Yale University found that alpha-lipoic acid supplements, ranging in dose from 300 to 1,800 mg daily, helped prompt an average weight loss of 2.8 pounds compared to a placebo," reports Very Well Health.
Shutterstock
Interestingly, alpha lipoic acid was linked to a lower body mass index, and not necessarily a loss in weight. What that means is that it could actually help your body gain more lean muscle and burn fat.

Another reason to add this supplement to your list is that it contains antioxidants that protect cells from the damage of free radicals.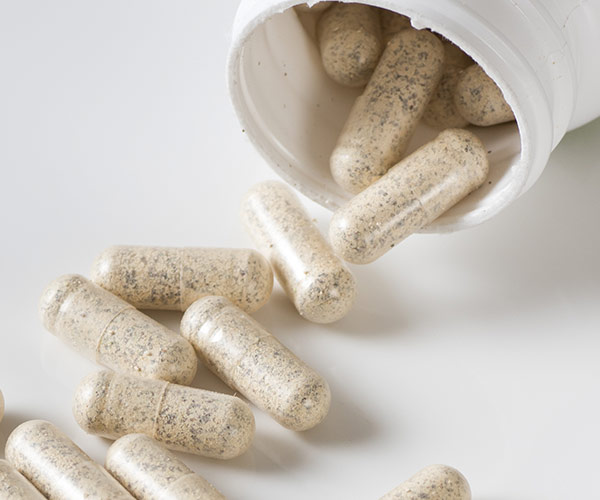 Shutterstock
There's a link between chronic inflammation in the body and diseases like diabetes and cardiovascular disease — and even obesity. Taking an anti-inflammatory supplement like alpha-lipoic acid can help reduce blood levels of inflammatory markers, reports Healthline.

If you're wondering how much to take, Healthline reports that the recommended dosage is "300–600 mg daily. No issues have been reported in people taking 600 mg of alpha-lipoic acid for up to seven months."

With that said, it's always a good idea to check with your doctor before starting a new supplement routine.