The holidays should be a joyful time, but more often than not, money matters kill our vibe. Right? We want to be buying great gifts for loved ones, going on an Insta-worthy trips , and making it rain on New Year's Eve... but that's not always possible.
It's totally normal to be financially strained in December. For one, you're due for a raise, plus you're over-spending on holiday travel and gifts. (AND, there are just too many good sales to pass up on.) The truth is that finance is closely tied to psychology, so the only financial app (and there are plenty of them out there) that's going to make a meaninful difference in your life will address that. And what do you know, once such app just launched. Joy is the ONE app you need to download on your iPhone immediately. If you do so, you will be saving more money and, most importantly, feeling better about your financial position by the New Year. Swear.

How does it work?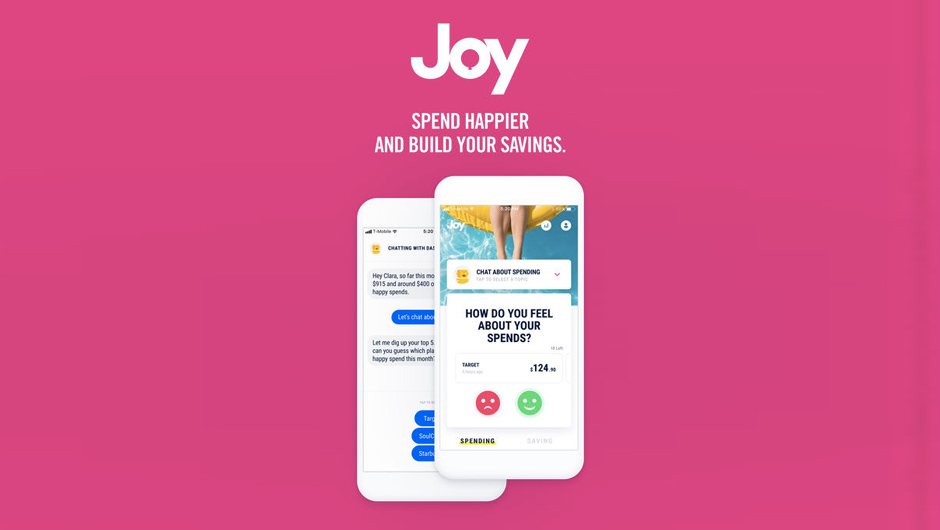 The first step is to take a quick 5-minute quiz to determine your financial "personality" (questions about your income, drink of choice, what you're typically doing on a Saturday morning at 9AM). I don't know the different personality types, but I was designated a "Contrarian." The next step is to be assigned a Money Coach that can give you customized recommendations. This is another 6-question quiz, very simple and straight-forward, designed in messenger format. The entire app is set up this way, which is perfect. You want personalized recommendations, but you also feel more comfortable answering questions about money sincerely since it's a bot. My guard was totally down.
I was assigned "Dash" as a money coach, a conversational-style, encouraging and advice-giving bot. Perfect!
Now what?
The next step is to link your bank accounts. It takes a few minutes to sync, then asks you to assign a feeling (happy or sad) for recent purchases. Ie. How do you really feel about that $4 latte at Starbucks? This is the most gamified/fun part of the app. It forces you to reflect on past purchases that many of us mentally block out after we swipe our cards. It's fun to quickly assign a smiley or frowny face to each. You can assign feelings for as many of these as you want. Then you can also build a savings account right on the app (something most of us need).
Overall, the app is easy to use and it's approach to finance is totally refreshing and dare I say, revolutionary. I've never used a financial app like it. It will definitely open your eyes to your own *relationship* with money, and inspire you to think about things a little differently. It's like couples counseling for you and money. And who doesn't need that.