Starting your morning with a nutritious hot drink can be a great boost to your metabolism that will help you speed up weight loss. Although it may be tempting to reach for a cup of coffee first thing in the morning, Bonnie Balk, RD and health & wellness expert for Maple Holistics, recommends replacing your coffee with cup of hot water and lemon.
Read on for how this change in your morning routine can help you lose weight faster.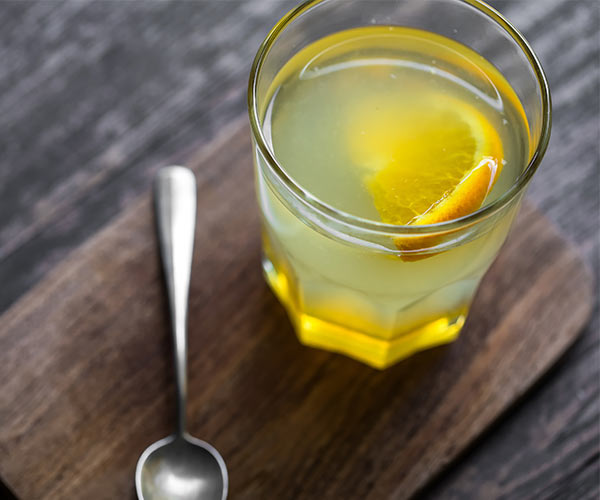 Shutterstock
Balk explains the advantages of drinking this hot drink before breakfast: "About 15-30 minutes prior to having a nutritious meal, squeeze half a lemon to an 8-ounce cup of water. This nutrient-packed drink will aid in digestion and boost your immune system."
With that in mind, starting your day with this hot drink can be the perfect metabolism boost to help you stay on track with your weight loss goals.
Shutterstock
Lemons are a great addition to any diet, especially for those who are trying to lose weight. Balk explains, "Lemons are loaded with vitamin C, B vitamins, calcium, iron, potassium, and fiber." Each of these nutrients can help improve your overall health.
Specifically, the fiber in lemons can speed up weight loss. Balk explains, "They help maintain satiety and reduce the chances of overeating later in the day." In addition, the B vitamins are linked to healthy metabolic functioning.
Shutterstock
The health benefits of this hot drink are not limited to your metabolism. "The vitamin C in lemons can reduce stress and ward off infections," Balk tells SheFinds.
If you are looking for a hydrating and calming hot drink to start off your day, hot water with lemon is an excellent option.
Shutterstock
If you still need coffee to get your day going, don't stress. Lynell Ross, health & wellness coach, nutritionist, and founder of Zivadream, explains that the caffeine in coffee can help jumpstart your metabolism as well: "Initial research shows that caffeine may moderately boost metabolic rate and burn fat."