You can eat healthy and exercise daily but that doesn't mean you're shedding extra pounds. You need to put real thought into all of your decisions. Having salad every night for dinner isn't a direct route to chipping away at your belly bulge. And neither is running 5 miles if you eat pizza nightly. But when you really focus on foods that can effect midsection changes, herbal teas are big winners. Herbal teas are not like black or green tea, which are made from leaves. Instead, they're concocted by steeping herbs in hot water. Even fruits, flowers and spices can be infused to create a healthy flavored drink.
Shutterstock
Herbal teas aren't really teas in the traditional sense. In fact Europeans call herbal varieties tisanes rather than teas. There are many different delicious varieties like chamomile, fennel, jasmine, ginseng, hibiscus and our favorite, rooibos, aka red bush tea. Meghan Markel reportedly favors a licorice peppermint blend. So all of these flavors obviously come from different ingredients so no two herbal teas are alike, but studies have found that some herbal teas may help with fat and weight loss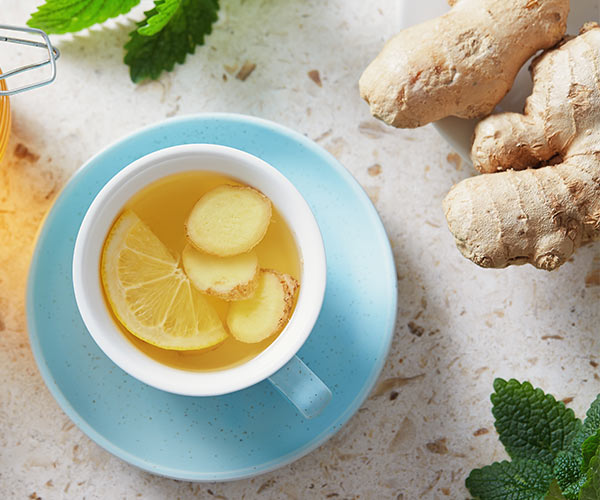 Shutterstock
"Ginger decreases hunger and bloating," says Dr. Marizelle Arce, a naturopathic physician. Freshly grated ginger is a sweet and spicy, anti-inflammatory food that aids digestion and helps metabolize excess adipose tissue (that's a fancy word for fat). Sip ginger tea after a meal to balance out your stomach acids and prevent nausea from overeating. It stimulates your GI system so it's ready to work. Food won't linger in your gut and cause cramps and bloating when ginger is on the job. Steep a few pieces of fresh ginger root in hot water or use store-bought tea bags. Add a squeeze of lemon and a few drops of honey.
Shutterstock
Ginger is also thought to suppress the body's production of the hormone cortisol. When you get totally stressed your body sometimes springs into action by making more cortisol. And just your luck, excess cortisol can lead to excess belly fat. Here's another vote for ginger tea: it's sort of like your morning cup of coffee but without the added sugar and calorie-loaded cream. It's an herb but also a stimulant. With some extra gingery pep in your step you might have more energy for CrossFit. You might feel extra focused in yoga or determine to run an extra mile. All of this can help burn more calories and eliminate belly fat.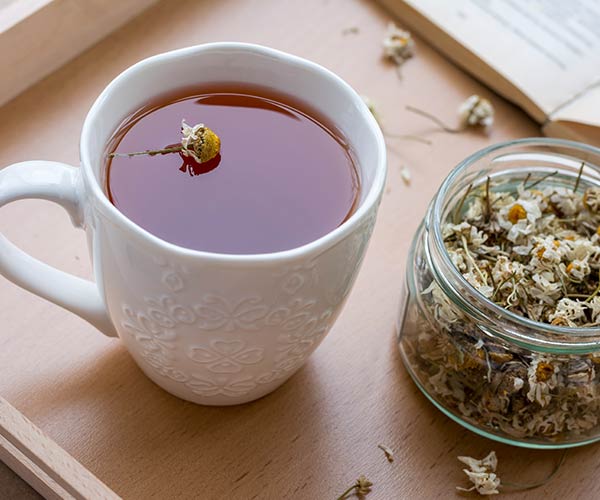 Shutterstock
Another herbal winner is dandelion tea. Some believe it helps with weight loss by promoting the breakdown of fat and cholesterol. It also improves digestion. When dandelion tea reaches your stomach it gets your gastric acids all riled up which then spurs on fat metabolizing enzymes to go to work. And any herbal tea acts as a diuretic: you'll pee out water that causes belly bloat. Just the act of drinking a low-cal, non-sugary tea – or even sniffing it (what?!) - can lead to shedding pounds. The scent of freshly baked cookies makes us want to stuff our mouths with at least one dozen hot from the oven. But scent also works the opposite way.
Shutterstock
According to a study at the Smell & Taste Treatment and Research Foundation in Chicago, people who sniffed the aroma of green apples or bananas when they were hungry ended up eating less and losing weight. Experts believe it has to do with tricking your brain into thinking you've already eaten. A study published in the Journal of Neurological and Orthopedic Medicine found that people who sniffed peppermint every two hours lost an average of five pounds a month. So replacing diet soda or sugary juice with a simple cup of mint tea not only smells thinning but also it's satisfying without calories.