Anti-aging products can work wonders for those with aging skin, but sometimes they can only do so much. If you feel like your go-to moisturizers and serums aren't doing the trick anymore, skincare experts say that it might be time to add supplements to your anti-aging skincare routine. Not sure which supplement is right for you? HUM Nutrition's latest launch definitely has you covered–it's a collagen supplement that actually works!
Best Collagen Supplements For Wrinkles
The brand's new Collagen POP Supplements, which just launched at Sephora on June 28, are the first dissolvable collagen tablets that deliver youthful, radiant skin—and all you need to do is add it to your water to reap its anti-aging benefits. Each supplement contains two key ingredients: Premium Marine Collagen Peptides and Vitamin C, which both work hard to improve the skin's appearance from within to help improve firmness and smoothness.
"Vitamin C helps support the production of collagen in the body which increases the health of the skin," Sarah Greenfield RD CSSD, HUM Nutrition Director of Education, tells SheFinds. "The combination of Marine Collagen and vitamin C ensures the body has access to high quality, easy to absorb collagen and is able to produce more of its own collagen. Vitamin C is also a powerful antioxidant that can help clear free radicals, that can damage the skin, out of the body."
HUM Nutrition Collagen POP ($12)
Collagen POP differs greatly from traditional powdered supplements, which Walter Faulstroh, HUM Nutrition's co-founder, says was the main focus of the product's conception.
"We noticed that it is hard to consume adequate amounts of collagen while on the go and since powders require a spoon and can be messy, we solved this problem by creating the first-ever dissolvable collagen tablet," he explains. "Furthermore, we also noticed poor taste in most collagen drinks, which again we solved by infusing our product with real rose petals that are soothing for the skin and are refreshing on the palate."
It's also the brand's first product that contains Marine Collagen Peptides and has helped people see visible results in their skin in as little as eight weeks.
"In a study done with our marine collagen, 68% of people reported an overall improvement in the skin within four to eight weeks, with noticeable differences including a decrease in fine lines and wrinkles, an improvement in skin texture and roughness, a decrease in pore size and an increase in measured levels of skin hydration. Collagen POP also encourages people to drink more water which has a positive impact on the skin texture and skin hydration," Greenfield explains.
HUM Nutrition Collagen Love Skin Firming Supplement ($40)
For those who are looking for a daily dose of collagen in capsule form, HUM Nutrition offers Collagen Love, a skin-firming supplement that supports the skin's production of collagen and promotes a youthful, bright, bouncy, and plump complexion.
It's perfect for those who need a solution for loss of firmness and elasticity, as well as fine lines, wrinkles, dullness, and uneven texture.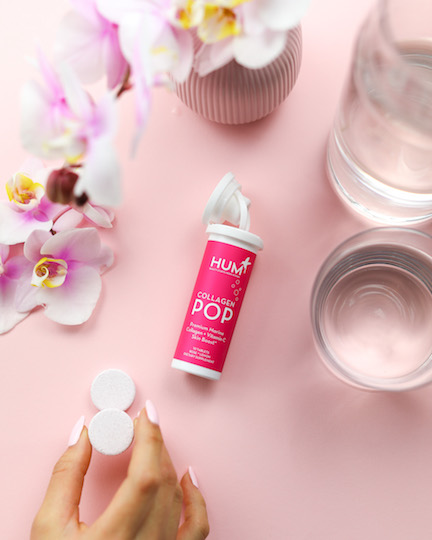 What makes HUM so great is that our products are not only best in class in terms of ingredient quality, ingredient research and ingredient purity, but we also deliver all this at an extremely compelling price point," Faulstroh says. "Since day one, we have emphasized quality and research, while simultaneously offering products that [are] accessible to all. Collagen POP takes us one step closer to achieving our overall mission, which is to make consumers look and feel their absolute best from the inside out."
Will you be trying Collagen POP? Let us know if you'll be adding it to your Sephora cart and which HUM Nutrition supplements you love in the comments below!
Photo: Shutterstock
SheFinds receives commissions for purchases made through the links in this post.