With so many options out there, choosing a lip balm can be a daunting task. So once you find one that keeps your lips moisturized and healthy, you can't get enough. With that in mind, it's no surprise that Moroccan Magic Rescue Balm has racked up over 48,000 five star reviews.
There are so many reasons why people love this moisturizer. For one, it is USDA organic and safe for the entire family. With so many questionable ingredients out there, this lip balm can take the stress out of finding an effective lip balm. It's also Cruelty Free and Made in the USA, so you can feel good about your purchase. Plus, since it costs only $3.99 per balm, there's absolutely no reason not to try it out. Check it out at the link below or at your local Walgreens, Whole Foods, or Target.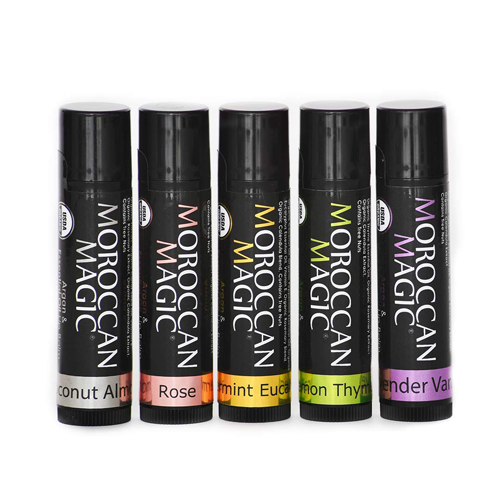 Moroccan Magic Organic Lip Balm Variety Pack ($17.99)
Shutterstock
Key Benefits of Moroccan Magic Rescue Balm
- Soothes chapped, dry, and peeling lips
- Moisturizes to protect against cold weather
- Improves lips' overall appearance
- Smooth application with non-waxy and non-greasy formula
Shutterstock
Effective Ingredients
- Shea Butter moisturizes and conditions skin
- Argan Oil is anti-inflammatory
- Vitamin E is a powerful antioxidant
Shutterstock
Promising Reviews
"I just tried these lip balms and I love them! The ingredients are organic and more natural than the products I used to use. I will definitely be telling my friends to use these lip balms. They left my lips soft and feeling great. I like all 3 flavors that came in the pack." -Amazon Reviewer
"I'm one of those crazy people who have strong opinions about chapstick. I have tried them all... organic, expensive, cheap, etc. This chapstick is the holy grail of chapsticks. It feels amazing, makes your lips look plump, AND most importantly it does not dry out your lips. It absorbs and your lips don't feel chapped for hours after it's 'gone.' Seriously, it's amazing." -Walgreens Reviewer
"I love this product. My lips stay supple and soft. They do not seem to dry out hours after use like with some lip balms. I would highly recommend this product." -Amazon Reviewer
SheFinds receives commissions for purchases made through the links in this post.