Dealing with thinning hair is one of the most frustrating of all the dreaded beauty woes. Whether it's from hormones, aging, or simply a lack of proper nutrients in your diet, finding a few extra hairs in your hairbrush than usual can be scary. Luckily, there are many products out there to help combat the effects of thinning hair and reverse the damage that's been done. If you're in the market for a hair growth product packed with natural ingredients to rev up your ability to grow healthy, happy hair, an affordable option is PURA D'OR's Original Gold Label Anti-Thinning Shampoo priced at $28 on Amazon.
The hair growth shampoo boasts a 4.3-star review on Amazon thanks to its power-packed formula of essential nutrients. Created with essential vitamins, the shampoo works to hydrate your scalp while reducing dryness, brittle strands and improves hair's overall manageability. And since healthy hair starts at the root, it's crucial to reach for a lathering shampoo that helps maintain your scalp's pH.
Because it's free of harsh chemicals while being hypo-allergenic, vegan, cruelty-free, and environmentally responsible, you can feel good about using PURA D'OR for your daily rinse while keeping on track toward your hair growth goals.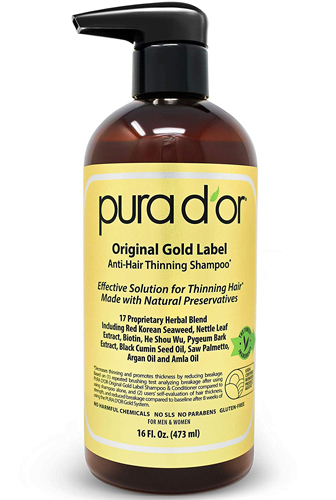 PURA D'OR Original Gold Label Anti-Thinning Shampoo Clinically Tested ($28.49)
Shutterstock
What It Does:
-Clinically proven and tested formula known to reduce hair thinning.
-Promotes hair's strength and thickness while creating more voluminous hair with less prone breakage.
-Features natural ingredients including Vitamin E to lock in moisture for hydration root to end.
-Created with a powerful blend of Biotin, Nettle Extract, Pumpkin Seed, & Black Cumin Seed to stimulate hair growth.
Shutterstock
Promising Reviews:
"I bought my original bottle on Dec 29th 2014, Why? My thinning and loss of hair, After my research I found that there are too many carcinogens in every day shampoo. I just finished it in July 2018, Yes, I used it 5-6 times a week. You say impossible but it only takes a few drops to do a good lather. Let it remain in your hair a few minutes before rinsing. My hair loss slowed and then finally became non-existent in the first few months to this day. I will never use another hair product. I figured it out to be less than .70 a month. You can't even beat that at a dollar store. 60+ with my own hair." - 60+ With Hair
"About two years ago my hair started falling a lot and I became incredibly concerned. I was using expensive Sephora shampoos but it became worse. So I started researching and I learned about this product. Not only did my hair stop falling but the conditioner made it soft and shiny. I naturally have frizzy and dull hair so it really did wonders to my hair and saved me from going bald." - Maryam
"I have always had very thin hair. This product helps my hair feel thicker and fuller. I also don't notice as much hair left on my hands after using this shampoo. I'd recommend it to anyone with thin or thinning hair." - Trey

SheFinds receives commissions for purchases made through the links in this post.