Losing weight requires a lot of dedication, and that means you can't cut corners. This is especially true when it comes to your diet. Every element of your diet needs to be fine-tuned to ensure that your body is getting the nutrients it needs to rev the metabolism and burn calories efficiently. But, not every food that's labeled as healthy is actually good for you–specifically the "low-calorie" varieties.
In fact, there's one low-calorie food, in particular, that fitness experts say you should steer clear of flavored yogurts because they're not good for you or your metabolism.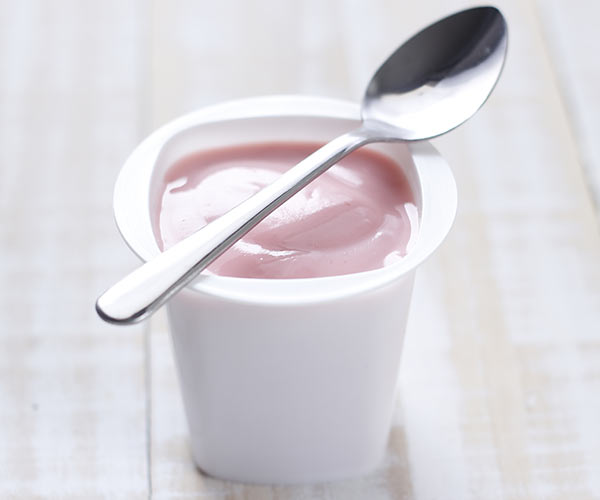 Shutterstock
Flavored yogurts may seem like a healthy choice because they're low in calories and high in protein, but Kristin Kirkpatrick, MS, RD, LD, says they're one of the worst things you can eat if you're trying to lose weight because they're loaded with artificial sweeteners.
"The trouble is, manufacturers pile on the sugar—big time. Some flavored yogurts have 36 grams. That far exceeds the 25-gram daily limit the American Heart Association has set for women and uses the entire 36 grams it has allotted for men," she explains. "That means, if you are choosing a highly sugar-laden option in the morning for breakfast, you're loading up on sugar for your first meal of the day—which in turn sets the stage for craving sweets for the rest of the day."
Shutterstock
Instead, Kirkpatrick and other dietitians say it's best to stick to unflavored, plain Greek yogurt for its metabolism-boosting benefits. "Yogurt is a good source of protein, calcium, vitamin D, and probiotic bacteria such as L. acidophilus," says Jenny Dang, RD, the founder of Eat Your Dang Veggies. "You can reduce your added sugar intake by choosing plain, unflavored yogurt."
Shutterstock
Not a fan of plain Greek yogurt and need some ways to sweeten it up naturally? Dang recommends topping your yogurt with fresh fruits, vegetables, and seeds to add some flavor.
"The fruit will give you an extra nutrient boost of vitamins, minerals and fiber," she continues. "And the almonds contain healthy fats that keep you feeling full - and your heart healthy."