Antiperspirant is such a universal product. Both men and women across the globe use it every day. We don't really think twice about the brands and types that we used, but we should. It often comes as a shock to people when they find out that this simple product can actually be really harmful their your long-term health.
More and more research has come out about the risk of this common, everyday product body care product but not many people know about it.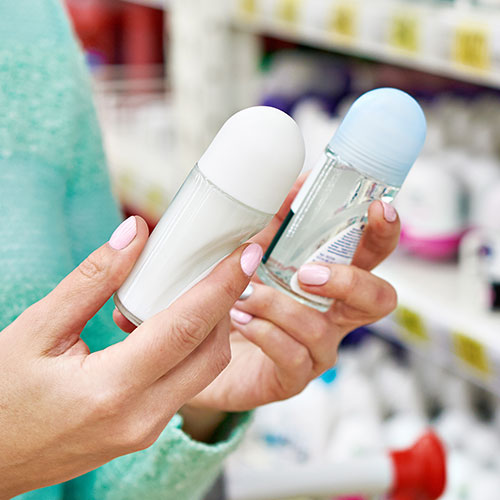 Shutterstock
If you aren't already aware of the ingredients in your antiperspirant, you should educate yourself. Many of the listed chemicals have been linked to health concerns like skin irritation, allergies, and even more severe ones like cancer. Sure, they block sweat and keep you smelling good for the rest of the day, but at a very big cost.
It's not uncommon for our beauty products to contain a fragrance. In fact, it's more common than not. While it sounds great at first for your armpits to smell like a tropical oasis every day, the reality is not so sweet. When products contain a scent, it usually means they're loaded with chemicals -- unless it's naturally scented, that is.
Shutterstock
When products list a fragrance on the label, we don't know exactly what chemicals are used to make it. According to TIME, the reason for this is because scents are protected under trade law.
"It could be phthalates, or it could be substances that cause allergies or skin irritation," Dr. Heather Patisaul, Ph.D., told TIME.
Not only can these fragrances cause physical skin irritation, but since the chemicals in them are unknown, they could cause a ton of other health concerns.
Shop Fragrance-Free Antiperspirants
Explore Naturals ($13.25)
Tom's of Maine Natural Long Lasting Deodorant Multi Pack ($12.74)
SheFinds receives commissions for purchases made through the links in this post.