Anxiously awaiting the season 8 premiere of Game of Thrones next month? Urban Decay has some exciting news to hold you over. The brand unveiled its highly-anticipated Game of Thrones Collection, which features show-stopping cosmetics inspired by the hit HBO series. The GOT collection is a limited-edition collection and will be available globally on April 14, which coincides with the big premiere.
Everything You Need To Know About The Urban Decay x Game of Thrones Collection:
"Even though the night is dark and full of terrors, your makeup will be so sharp it will cut deeper than swords. Whether you feel like the fiery mother of dragons or an icy white walker queen, you can pledge your allegiance to any of the kingdom's top power players with this limited edition lineup," the brand states in a press release.
The collection is comprised of a 3D pop-up eyeshadow palette with an arsenal of 20 shades, a loaded highlight palette, a show-stopping lip and cheek tint, and brushes that will keep you armed and ready. Urban Decay fans can also expect new shades of the brand's best-selling Vice Lipstick and 24/7 Glide-On Pencils. "This collection was inspired by our favorite places in Westeros and the strong women of the Seven Kingdoms," the brand wrote on Instagram.
Keep scrolling to view the collection and learn more about these amazing new products: 
UD | GAME OF THRONES MOTHER OF DRAGONS Highlight Palette ($36)
Give your skin a glow that will light up the Seven Kingdoms with the new Mother of Dragons palette, which features three new shades of the brand's fan-favorite Afterglow Highlighter.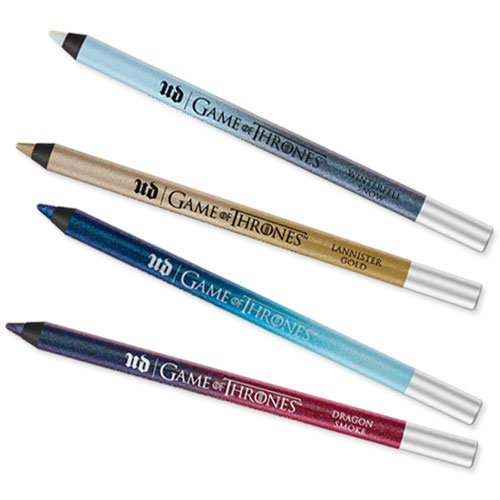 UD | GAME OF THRONES 24/7 Glide-On Eye Pencil ($22)
Rule Westeros in a whole new range of shades. Wear metallic gold with pride like a Lannister lion (Lannister Gold), embrace the embers of Drogon's fire (Dragon Smoke), steal the Night King's look with a shimmering teal (The Night King), or mirror House Stark's icy glitter (Winterfell Snow).
UD | GAME OF THRONES DRACARYS Lip And Cheek Stain ($26)
Command the flames and unleash your inner dragon with Dracarys Lip & Cheek Stain. Inspired by the High Valyrian command for "dragonfire," this universally flattering Targaryen red shade gives you the perfect see-through flush on lips and cheeks.

UD | GAME OF THRONES Eyeshadow Palette ($65)
Use this palette to declare your allegiance to House Targaryen, House Lannister, House Stark, or to defeat the White Walkers. Jewel tones and earthy neutrals give way to dark metallics and frosty shimmers.
UD | GAME OF THRONES Vice Lipstick ($19)
With its super-creamy, intensely-pigmented formula, Vice Lipstick is always the best weapon. The four new GOT-inspired shades are named after the show's leading ladies and deliver a high-shine finish.
Command your seat on the throne in a metallic bronze (Cersei Lannister), or inspire allies and foes to bend the knee in a fiery red (Daenerys Targaryen). Fight quietly and let your profound strength emerge with a warm peach nude (Sansa Stark), or let everyone know winter is coming with a deep berry-wine (White Walker).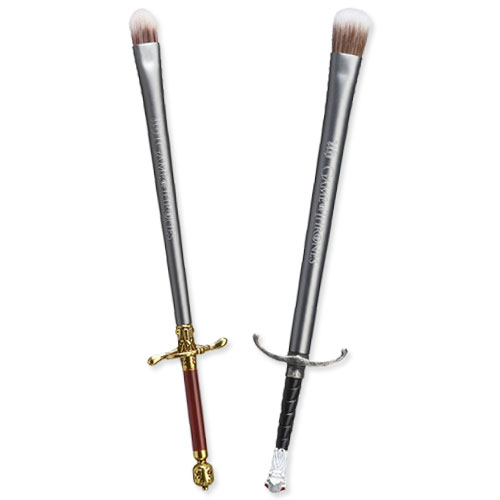 UD | GAME OF THRONES JON SNOW'S LONGCLAW
Large Eyeshadow Brush ($28)
UD | GAME OF THRONES ARYA STARK'S NEEDLE
Flat Eyeshadow Brush ($28)
Choose your sword carefully. Urban Decay's pro-quality, cruelty-free brush is the weapon of choice when creating looks fit for a ruler of the Seven Kingdoms. Jon Snow's Longclaw is perfect for laying down and blending out eyeshadow, while Arya Stark's Needle is your best bet for all-over color or precision.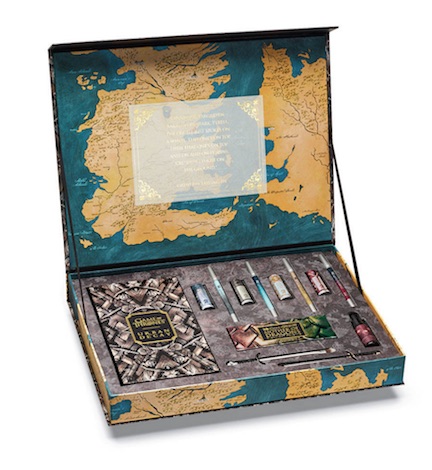 UD | GAME OF THRONES Vault ($250)
Thinking about buying the entire collection? The Vault contains everything featured in the Urban Decay x Game of Thrones collection and makes the perfect gift for any GOT fans in your life.
SheFinds receives commissions for purchases made through the links in this post.