Everyone knows that fruits and vegetables are the best foods that you can eat for your skin, but that doesn't mean that every item in the produce aisle is good for you. In fact, there's one popular vegetable dish that dermatologists say can wreak havoc on your skin, and potentially cause signs of premature aging—it's "crispy" fried vegetables.
Shutterstock
Most dieters might think that frying up their favorite veggies to make crispy veggie balls and bites is a tasty way to get their fix of vitamins and nutrients, but experts note that the practice of battering and frying vegetables is hurting your skin and your body. This is especially the case if you're thinking about ordering a fried vegetable option at a restaurant.
Shutterstock
"A lot of restaurants use processed vegetable oil that has been in the fryer forever. It's not a question of whether you should or shouldn't have French fries. It's more like your body can't process that oil that the French fries have been cooked in," Robyn Youkilis, a certified wellness expert and author of the best-selling book Go with Your Gut, tells Taste of Home.
Shutterstock
Ava Shamban, an assistant clinical professor of dermatology at UCLA, stresses that fried foods are terrible for your skin because of their high rating on the glycemic index scale and negative impact on your blood sugar. "Foods with a high glycemic index give you a sugar rush that will be terrible for your skin," she tells Allure. "When you increase sugar levels in the bloodstream, the sugar that's not picked up by the liver can get into your collagen, which your body may then identify as damaged goods and chew up. It can also cause inflammation that could make you break out."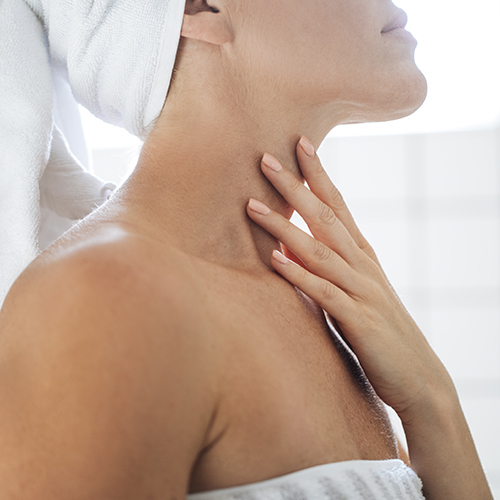 Shutterstock
Crispy-fried vegetables also tend to be on the saltier side in terms of flavor, which means that it can dry out your skin. "Just as coffee and alcohol do, too much salt will dehydrate your skin," Shamban continues. All of that excess salt can strip the skin of its natural oils, making the skin barrier weaker and concerns like fine lines and wrinkles more pronounced.
Shutterstock
While it's always better to opt for raw vegetables that are free of seasonings and other flavor-enhancing condiments, there are healthy tweaks that you can try to make them better for your skin and body. Opting for cooking oils and clarified butters like coconut oil, avocado oil, and ghee are healthier alternatives to vegetable and canola oil.
It's also a good idea to be mindful of the salt you're using...