Your skin needs collagen in order to be healthy. After all, collagen production naturally decreases as we age, so it's important to make sure your skincare routine features products that stimulate collagen to help improve the overall quality and appearance of your skin. Not looking to add another moisturizer or serum to your regimen? Vital Proteins' latest launch will help you get that extra collagen boost with their new Collagen Creamer.
Everything You Need To Know About Vital Proteins Collagen Creamer
It's a "better-for-you, dairy-free creamer that is rich in clean collagen protein and healthy fats from organic coconut milk" according to the brand, making it one of the easiest ways to combat fine lines, dark spots, and more! You can add it to your favorite morning coffee drink for sustained energy and improved health for your hair, skin, nails, and joints. Collagen Creamer can also be added to your matcha, oatmeal, baking recipes, or anywhere you need a dairy-free milk substitute, too!
Key Benefits: 
Reduces the appearance of fine lines and wrinkles.
Helps fade dark spots and improve dullness and uneven texture.
A solution for loss of firmness and elasticity.
Comprised of healthy fats from coconut milk and clean protein from bovine collagen peptides.
Vital Proteins Collagen Creamer Reviews: 
"If you own a Nespresso machine this works amazingly as a creamer! It's so frothy and delicious and I am so happy I am getting added protein! I would definitely blend it if I didn't have the Nespresso because I don't think it would just mix in. I love it!" – precious1mk
"I'm the type of person who LOVES a little coffee with my creamer. I've been drinking sweet, dairy-based creamer all my life. Recently I started drinking this in my morning coffee and even though it's not the "sugary-sweet" creamer I love the benefits make up for it. My husband and I have been cleaning up our diet and by switching to this I feel like I start my day off much lighter. I love that it has collagen in it and I can actually see a difference in my skin/glow of my skin. If you put the creamer in before you pour your coffee, then stir well, no chunks occur. I will continue to purchase this creamer." – aligdotti
Collagen Creamer is available in three flavors, Coconut, Vanilla, and Mocha. Keep scrolling to try them out: 
Vital Proteins Collagen Creamer - Vanilla ($29)
Vital Proteins Collagen Creamer - Coconut ($29)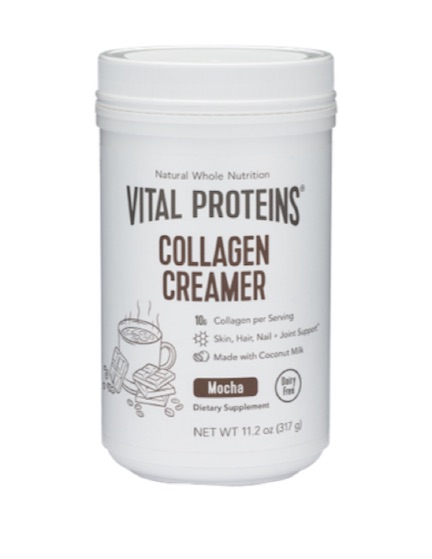 Vital Proteins Collagen Creamer - Mocha ($29)
SheFinds receives commissions for purchases made through the links in this post.