Your wedding is not the time to have a bad hair day, so you'll want to try out plenty of styles before the main event. Luckily, hairstyles have evolved to go beyond just the simple twist. The styles today's brides are donning on their big day are truly works of art.
Bride Hairstyles Trends For 2018
"2018 is set to be a year of romantic, effortless luxe hair. A touch of elegance and sophistication paired with what makes you, you," explains Tania Maras, a contemporary custom bridal accessories designer and all-around wedding expert. "For all you lovers and modern romantics, 2018 is your year. Get ready to see some of the classics – hairstyles, dresses, styling – transformed ever so slightly, into modern and fresh visions of glamour."
Not sure where to start? Take a look at these 15 elegant styles with a modern flair:
Crown Braid
Fit for the queen in you, the crown braid is an effortless braid that sits like a halo around your head, says Kiyah Wright of Muze Hair. "This angelic style is best worn at formal affairs because it is so whimsical and graceful," she explains. "Plus, it also helps focus attention to your neckline, ears, and face -- allowing any accessories and makeup to be on full display."
Pinned Up Pony
Tim Abney and Massimo Morello of Kevin Murphy Stylists created this fun, but classic look for the bride that doesn't want a traditional up-do.
Loose Waves
"My first option is always loose hair. I like to create these for weddings on the beach or weddings in the middle of the day," says Ivan Rodriguez, BioSilk Hairstyling Ambassador. This is an excellent choice because of its versatility; it pairs well with almost every dress design and compliments every face shape!
Messy Bun
The messy bun is still an elegant way to show off the neckline of your dress and keep hair away from your face without looking overly formal. Plus, there are so many ways to dress it up. You can add a gorgeous hair barrette, or add romantic elements like braids!
Side Bun
"Brides with short hair often come to me at Supercuts thinking they can't do an elegant up-do for their wedding day," says Nashville Supercuts stylist Chelsea Downs. "That's not always the case! A low, side bun is a great option for women with shorter locks. Tease the hair at the crown and then pull all of the hair to one side, twisting the pieces and bobby pinning them in place. This style gives the illusion of longer hair and you don't need a ton of length to pull it off. This classic look will make your pictures look timeless!"
Waterfall Braid
If you want to put your best look forward, a waterfall braid allows you to feature braided elements into your hairstyle without braiding all of your hair, says Wright. "Using its ladder technique, you can feature one or two braids on either side of your head, leaving half of your hair down," she says. "The nice feature of this braid is it can be a little messy and still look great, making it the perfect casual look for both short and long manes."
Twisted Bun
"For brides with thick hair, keeping every strand in place all day long can be a challenge," says Downs. "Try a twisted bun! Separate the hair into three ponytails in the back, and then braid each one. Next, twist the braids together and pin them in place. Because the hair is braided and then pinned, this style can stand up to the elements. When a bride has to look good from early morning through all of that late-night dancing, this is a great style! Add a flower or a sparkly brooch for some added elegance."
Loose Ponytail
Curls will be big this year, says Kristen Peckich of La Pomponnee. "And ponytails are also awesome for brides who don't want a full up-do."
Classic Chignon
This style is a true classic for a reason. "It will show off a bride's neckline and stay secure for a long night," says Kristina Maccaro of Love Lane Salon.
Retro Side Part
A soft retro inspired wave with a deep side part is perfect the bride who wants to wear her hair down all day, says Maccaro.
Side Braid
A soft look that combines two of the biggest hair trends: Loose waves and braids.
Sleek Pony
These bridal looks are excellent for weddings on terraces or open places regardless of the time of the wedding, says Rodriguez.
Half-Up Half-Down
For the bride who wants to keep her locks long and loose, but still away from her face, this half-up half-down creation from Abney and Morello is perfect.
Sleek & Straight
This is a simple, but classic hairstyle for brides that want to wear their hair down without any fuss.
Loose Chignon
Up-dos will be lower on the nape and have a soft twisted feel, says Peckich.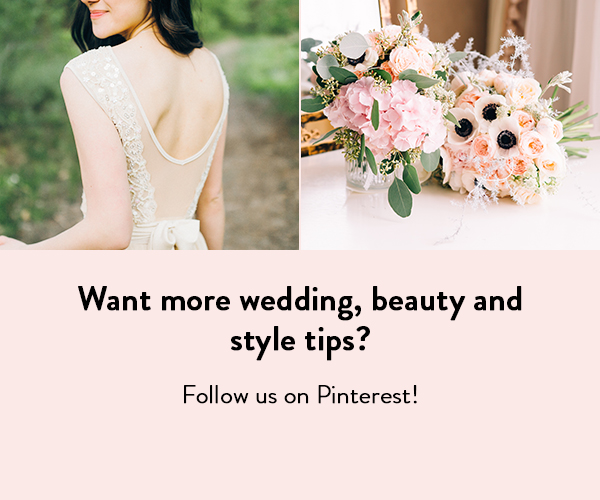 Want more wedding tips and advice? Follow SheFinds on Pinterest!
[Photos: Shutterstock, Splash, Kevin Murphy Stylists, La Pomponnee, Love Lane Salon]