We still can't get over the super sparkly Versace number Kim Kardashian wore to the brand's runway show in New York last week!
Especially since the flirty dress is such a throwback to an iconic dress her pal Paris Hilton wore back in 2001.
Kim looked flawless in the crystal halter dress, with a matching hair piece in her top pony. It's Valley Girl Barbie, guys!
The internet freaked out because the dress looked exactly like Paris Hilton's 21st birthday Julien MacDonald dress:
The Kardashian/Jenner clan clearly has an appreciation for Paris' vibe; Kendall Jenner wore an identical sparkly mini dress for her own 21st birthday last year.
And now it's catching on–swimsuit model Samantha Hoopes also recently wore one:
Whoa–this is the teeny tiniest dress trend. We can't believe it's gaining speed. What do you think?
If you're feeling the vibe–maybe for New Year's Eve?–we found some totally affordable look-alike styles from PRETTYLITTLETHING you can shop now: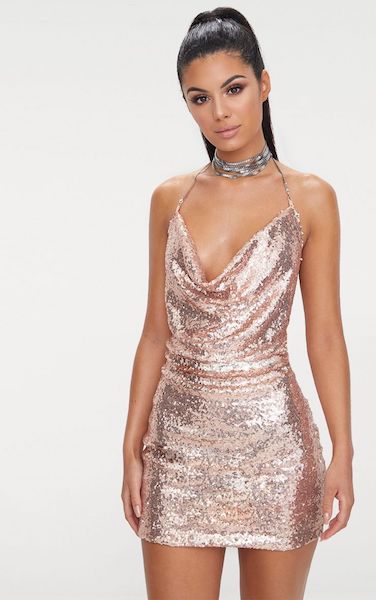 Rose Gold Sequin Chain Choker Mini Dress ($70)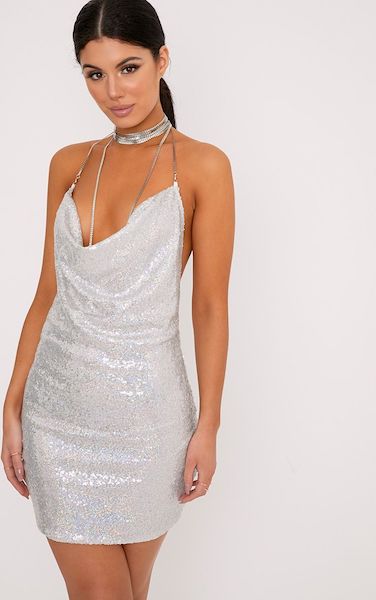 Silver Sequin Chain Choker Mini Dress ($70)