Gwen Stefani and Blake Shelton seemed like an unlikely pair back in 2015 when romance rumors sparked between the two. Now, we can't imagine them with anyone else! The couple has been going strong for almost three years now and getting married has definitely crossed their minds at this point, right?
It turns out Stefani and Shelton aren't looking to rush anything and a source close to the couple says that they're waiting for the right time to tie the knot.
Splash
"There is no reason for them to rush into a marriage so they aren't," a source explained to ET. "Both of them are happy and content with where their relationship is right now."
That seems reasonable. After all, they both did just go through painful divorces. Stefani and rock star Gavin Rossdale ended their 13-year marriage in 2015 and Shelton and country singer Miranda Lambert called it quits around the same time after being married for four years.
Splash
Despite their painful splits, Stefani says that she'd be ready to get married again. She told Ellen DeGeneres that she thinks about marrying Shelton "all the time" when she was a guest on her show back in April. But that doesn't mean wedding bells will be ringing anytime soon...
"I don't think it's anytime soon or anything," Shelton told CMT's Cody Alan after Stefani's interview on The Ellen DeGeneres Show. "The more time that goes by, I guess, the closer you'd be getting to that."
Splash
What matters is that Stefani and Shelton are happy and doing what works best for them and their family. Shelton has been enjoying being a stepdad to Stefani's three children, Kingston, 12, Zuma, 10, and Apollo, 4, and says that his new role has helped his bond with Stefani grow stronger.
"Here we are, going on three years later and every day that goes by, it just feels like a stronger bond between the two of us and it constantly feels like it's going to the next level. That's the only way I think either one of us would probably describe it," Shelton said back in June when asked about his relationship on NBC's Sunday TODAY with Willie Geist.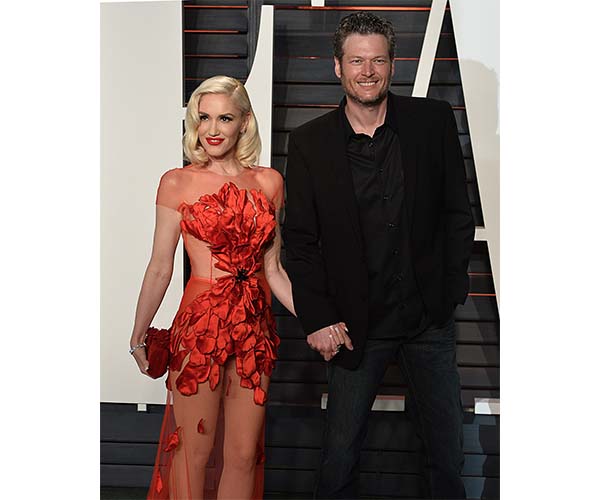 Splash
Can't wait to see Stefani and Shelton tie the knot? There are rumors that the two are thinking about getting married at the end of the year, so hopefully, a romantic, southern winter wedding is in the works!
When do you think Blake & Gwen are going to get married? Let us know in the comments below!