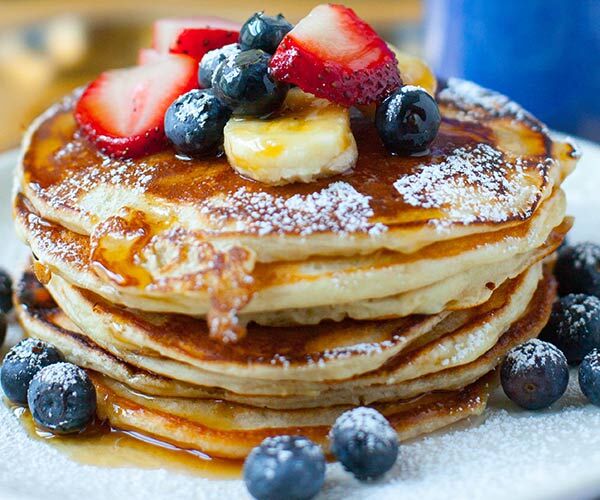 Shutterstock
Pancakes
They're touted as the ultimate breakfast food, but pancakes have more in common with dessert than they do a healthy meal.

According to Margaux J. Rathbun, certified nutritional therapy practitioner and creator of nutrition website Authentic Self Wellness, who spoke with Shape: "Most pancakes are loaded with highly-processed ingredients that do little to contribute to our health."

This refined carb contains sugar, but is low in fiber and other nutrients that fill you up.
Shutterstock
You can add waffles to that same list of foods that are sweet and tasty, but not exactly healthy.

Like pancakes, waffles are a refined carbohydrate that are higher in sugar and processed ingredients than they are natural nutrients that your body needs — like fiber.

And that's even before you add toppings to your pancakes and waffles that up the sugar ante. Syrups, jams, whipped cream, and other sweet toppings are a treat, for sure, but they also spike blood sugar levels and send you crashing a few hours later.
Shutterstock
Waffles, pancakes, and bagels are obvious carbs that can weigh you down and send your blood sugar levels soaring. But don't forget about less in-your-face breakfast meals that can be healthy, but are sometimes anything but — like açaí bowls. Acai itself isn't the problem, but some of the ingredients you may be adding to your bowl, like flavored yogurt and almond milk or granola can add up in calories and sugar.
Shutterstock
And the same applies to otherwise healthy smoothies and shakes. A protein-packed smoothie with a low-sugar protein powder and fiber sources from ingredients like chia seeds or flax can be a healthy breakfast alternative. But the minute you start adding fruit juice or frozen yogurt to your blender that smoothie morphs into a dessert.

A better breakfast option is to start with a foundation of protein-rich foods like eggs and build upon it with healthy fats (avocados, nuts, and seeds) and whole grain carbs.