There are so many perks about growing older. But, unfortunately, a faster metabolism isn't one of them.
If you've noticed it becoming more difficult to lose weight and keep it off and you're over 50, the culprit could be a combination of factors that include a slower metabolism, more stress/less time spent exercising, and a diet that is lacking in protein, healthy fats, and good, unrefined carbohydrates.
It's never too late to make a change, and breakfast is one of the best places to start. This is the worst food to eat in the morning if you're trying to lose weight over 50, according to a nutritionist.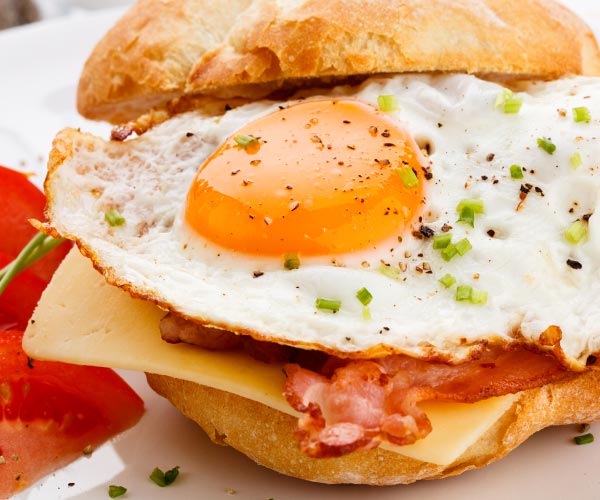 Shutterstock
There's no such thing as "bad" foods — but certain foods, including refined carbs, are much more difficult to burn off and don't contain enough quality nutrients to make them worth the trouble.

You'll find bagels up high on the list of worst breakfast foods — here's why it's probably a good idea to skip them in the morning.
Shutterstock
According to Joy Bauer, MS, RDN: "Starchy white bagels— and flavored varieties like onion, garlic, poppy seed, and "everything" bagels—are made with refined wheat flour, which has been stripped of the fiber and nutrients that give whole grains their health benefits. That's bad enough, but my biggest issue with bagels is that they're incredibly dense, which means they're also incredibly caloric."
Shutterstock
Even an average-size bagel can contain as many calories as four or five slices of white bread, Bauer says.

When you consume refined carbs that contain sugar and are low in fiber, they fail to fill you up in the same way as a high-protein breakfast like eggs or steel-cut oats. You may be left with a sugar spike that gives you a temporary high, followed by an inevitable crash that makes you crave additional carbs.
Shutterstock
Your best bet for breakfast is to stick to foods that are high in protein and fiber, both of which are crucial nutrients for weight loss. But if you are craving a bagel, Bauer suggests eating a whole-grain English muffin instead, or scooping out the inside of a half of a bagel and filling it with a quality protein source like nut butter.