Acne, pimples, zits, blemishes–whatever you call them–are the worst. They can pop up at any moment and are due to a variety of hormonal and environmental effects. While most people think that trying a new cleanser will help them zap their pimples away, dermatologists say that the foods they eat play an even bigger role in causing their breakouts.
"This is such a hot topic because every patient that comes in, they want to know, 'Is something that I'm eating contributing to my acne?' Today, we say it might be true," dermatologist Dr. Linda Stein Gold explains.
So, which foods are doing all of this damage to your skin? Stein Gold says that those with acne-prone skin need to be wary of foods with a high glycemic index. "The sugar in the blood goes up quickly, and that triggers a cascade of events that increases hormones and increases sebum, and all this together actually causes acne to flare up," she says.
Yikes! Here are the foods that you should avoid if you're prone to acne, pimples, zits or blemishes:
Bagels
Foods like bagels are made with refined carbohydrates, which are processed and stripped of their natural grains and minerals. Since they're made with white flour, bagels, white bread, white pasta and muffins cause the blood sugar to spike quickly, which then leads to acne.
Instead, opt for healthy carbohydrates and grains like quinoa, brown rice, barley, and sweet potatoes!
Skim Milk
There's ongoing research that suggests dairy contributes to acne. "In patients who have no genetic background for acne, dairy plays no role whatsoever. It will not give them acne. But for those who have a propensity for acne and are susceptible to the effects of dairy, it can make their acne much worse," William Danby, MD, says.
As for which type of dairy is the worst for breakouts, Stein Gold says that skim milk trumps the others. "We do see some association between milk products and acne," she says. "It appears that skim milk actually has a higher association of the development of acne than whole fat milk."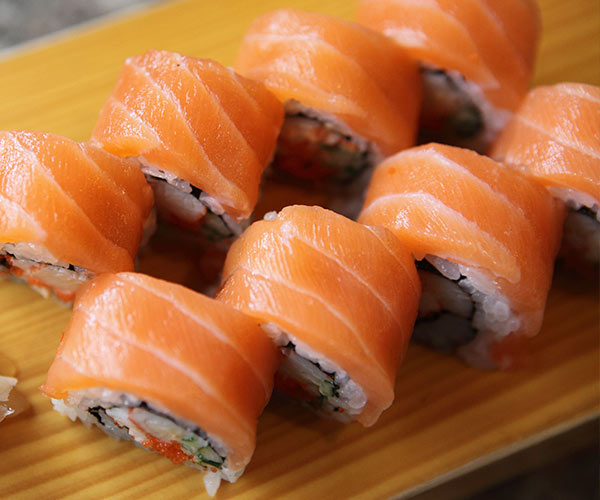 Sushi
White bread isn't the only type of high glycemic index foods you should be avoiding. Foods like sushi are high in sodium, which cosmetic physician Dr. Mitch Chasin says are very bad for the skin.
"Foods that are high in salt are very bad for the skin, because salt can cause us to retain water, which results in swelling," he says.
French Fries
Not only are foods like french fries high in sodium, but they're also loaded with unhealthy fats and oils. They affect your complexion from within, and if you don't clean your face properly after eating, the excess oil can cause you to breakout around your mouth.
Instead, opt for healthy fats like avocados and olive oil, which are great for the skin because they're loaded with omega-3 fatty acids.
"The fatty acids in these foods are responsible for regulating cell function," Dr. Chasin says. "This helps the skin to maintain the transfer of waste and water, allowing waste to pass out and water to plump up skin cells. This is what gives skin a youthful, healthy look. Healthy fats also help prevent clogged pores, which prevents acne."
Chocolate
Chocolate is another high glycemic index food you need to avoid because of its overwhelming sugar content. "They found a slight association with bingeing on chocolate and a subsequent acne breakout," Stein Gold says.
Make sure you're not eating a high sugar diet, Dr. Chasin warns, as this can "increase sebum production, and excess sebum production is a cause of acne."
Looking for other skincare tips to combat acne? Check out the spot treatments that dermatologists swear by for breakouts at SheFinds.com!
[Photos: Shutterstock]