Summer is all about soaking up the sun and enjoying time outside, but it's our job to do it right in order to protect our skin from harm. That's why dermatologists say it's best to limit your time in the sun–even if it is so you can get some vitamin D.
"There are safer ways to get vitamin D than lying in the sun. Ultraviolet light is a carcinogen, like cigarette smoke," Delphine J. Lee, M.D., Ph.D., tells Reader's Digest. 
But, there's one product that skincare experts say you should never, ever use on your chest and body while being exposed to the sun because of its dangerous effects: Tanning oil.
Tanning oils may help you get that glow of your dreams, but most of them provide inadequate UV protection and ultimately cause harm to the skin.
"Tanning oils are simply a bad idea. They promote risky behavior, encouraging users to seek out intense sunshine that results in skin damage and increased risk of developing skin cancer," according to the Environmental Working Group (EWG). "Although some tanning oils contain sunscreen ingredients, the levels are always very low and offer little, if any, protection from the sun's rays. Tanning oils are also associated with an increased danger of sunburn."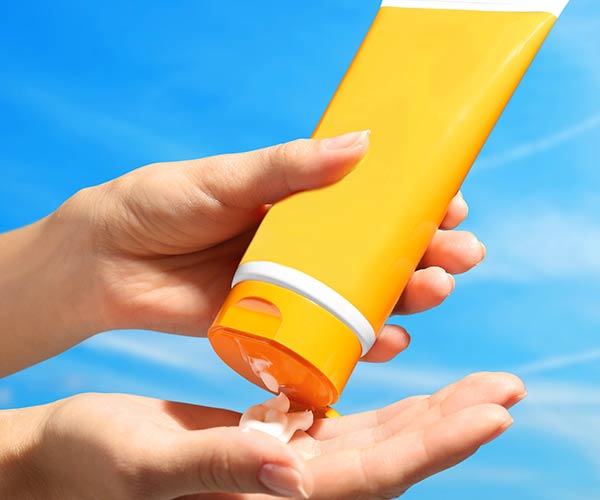 Instead of lathering yourself up in this potentially dangerous oil, dermatologists say all you need is a good sunscreen!
"Your skin cells see every tan or burn as damage to the cellular network, which signals your skin cells to repair the damage. This is why it's important to always protect your skin with sunscreen," explains Ashley Magovern, M.D., dermatologist and expert contributor/blogger for Livestrong, and medical director of Dermstore.
Not sure which sunscreens are the best? Here are some of our favorite dermatologist-recommended brands and formulas. Remember: Your sunscreen should offer Broad-Spectrum SPF 30 protection or higher and must contain ingredients like zinc, avobenzone, or titanium oxide to be effective in keeping you safe from UVA and UVB rays.
EltaMD UV Clear Broad-Spectrum SPF 46 ($33)
La Roche-Posay Anthelios 60 Melt-In Sunscreen ($35.99)
Shiseido Urban Environment Oil-free UV Protector SPF 42 ($25.39)
SheFinds receives commissions for purchases made through the links in this post.