Congrats! Sarah Michelle Gellar Is Pregnant With Her Second Child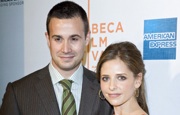 There's another celebrity baby on the way! Actress Sarah Michelle Gellar just announced she's expecting her second child with her husband, Freddie Prinze Jr.
The couple, who have been married for 10 years, already have a two-year-old daughter, Charlotte Grace.
Sign up for our newsletter to receive even more great finds.
Click here to email Jeanine, the author of this post.