Summer weddings can be sweaty (remember Vanessa Minnillo's perspiration problem?), leaving your hair looking a hot mess. Luckily we discovered this awesome beach-inspired fishtail braid at the Mara Hoffman runway show during Miami Fashion Week. It's the perfect 'do for any summertime wedding, maids and all.
TRESemmé Stylist Elsa Canedo, lead stylist for the Mara Hoffman show, agreed to share 7 simple steps on how to achieve this look:
Step 1: Create a middle part and divide hair into sections
Step 2: Prep each section with TRESemmé Thermal Creations Curl Activator Spray ($4.99), then curl using a 1″ barrel curling iron and pin to the head
Step 3: Once all sections are completed, take out the pins and brush the curls with a paddle brush
Step 4: Flip your head upside down and spray TRESemmé Fresh Start Dry Shampoo ($5.49) throughout hair for added texture, lightly combing the product through with your fingers
Step 5: Flipping your head upright, divide hair into two sections down the middle of the head, and begin to create two French braids, starting at the top of the head to the base of the neck: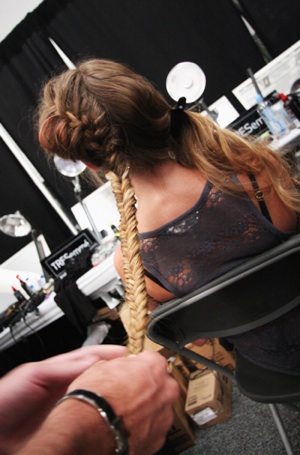 Elsa Canedo backstage, Miami Fashion Week
Step 6: From the base of the neck, create two fishtails braids, and secure them with clear elastics, leaving some length on the ends loose.
Step 7: Lightly rough up hair at the top of the head, pulling a few pieces loose with your fingers, and finish by lightly applying TRSemmé No-Frizz Secret Smoothing Créme ($5.49) in a backwards motion.
For more wedding ideas, check out our guides to the best cheap wedding invitations, customized wedding favors, and strapless wedding dresses.