The Internets are currently ablaze with reports that Eva Mendes is pregnant with your her boyfriend, Ryan Gosling's baby. Is it true? Who knows yet. But according to "reports" and "sources," Eva "couldn't be happier" and "has been ready for motherhood for months now."
Also, people are saying she's seven months pregnant, which seems a little odd that she's hidden it for this long. But hey, it's possible. And looking back, she did kinda look like she was hiding something under this printed dress back in March: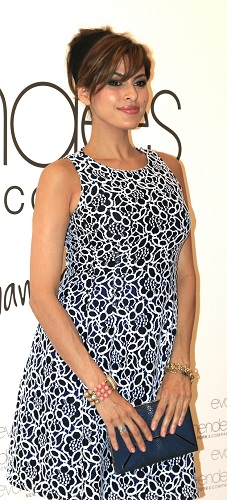 You can hide a baby bump, but hiding an actual baby is a bit harder so I guess we'll all soon find out. If they confirm the news, we'll let you know.
UPDATE: People has confirmed the news. It's true. Eva Mendes is pregnant with Ryan Gosling's baby. Now let's all go shop away our sorrows.
Don't miss 70% off at Neiman Marcus Last Call, the coolest headphones ever and Cameron Diaz's amazing bag.
[Photo: Splash News]